The Most Exclusive White Pool Tiles for You
2022.06.24 / By hqt
What is a Pool Tile?
In addition to being an ornamental component, pool tile guards the pool inland from the sun and chemical impairment, and also permits easy cleaning. The widely held pool tile is mass-produced from porcelain or glass including almost indefinite colors, sizes, and styles. Travertine, clay, and stone tiles are not suggested for pool tile. All pool tile necessitates being graded for outdoor submersible use and be frost protected. It is vital because if it is not regarded for outdoor submersible pool use, there is a perspective that it will vitiate or lose grip. If the tile is not frost protected, then it could crack.
White Pool Tile:
Sometimes less is more! White is known as the most elegant color in the history of colors. A pool fully tiled in white will realize a light blue watercolor with the tiles above the pool looking like white. Whether it is all all-white or clues of white, your pool will have a relaxing feel. It can complement both cool and warm-toned surroundings. A white pool tile is an understated, clean, pure, fresh choice for a pool when teamed with luminous or light-colored water. White tiles for swimming pools are one of the most widespread veneers as an ornamental feature. The magic of a white swimming pool gives the water a charmingly fascinating sky blue tone and feel. There is no doubt that a swimming pool is one of the features that give more disposition to a hotel, or to a private house. The project of the pool, the notion of the surroundings, and the assortment of swimming pool tiles are essential matters when it comes to realizing the anticipated outcome.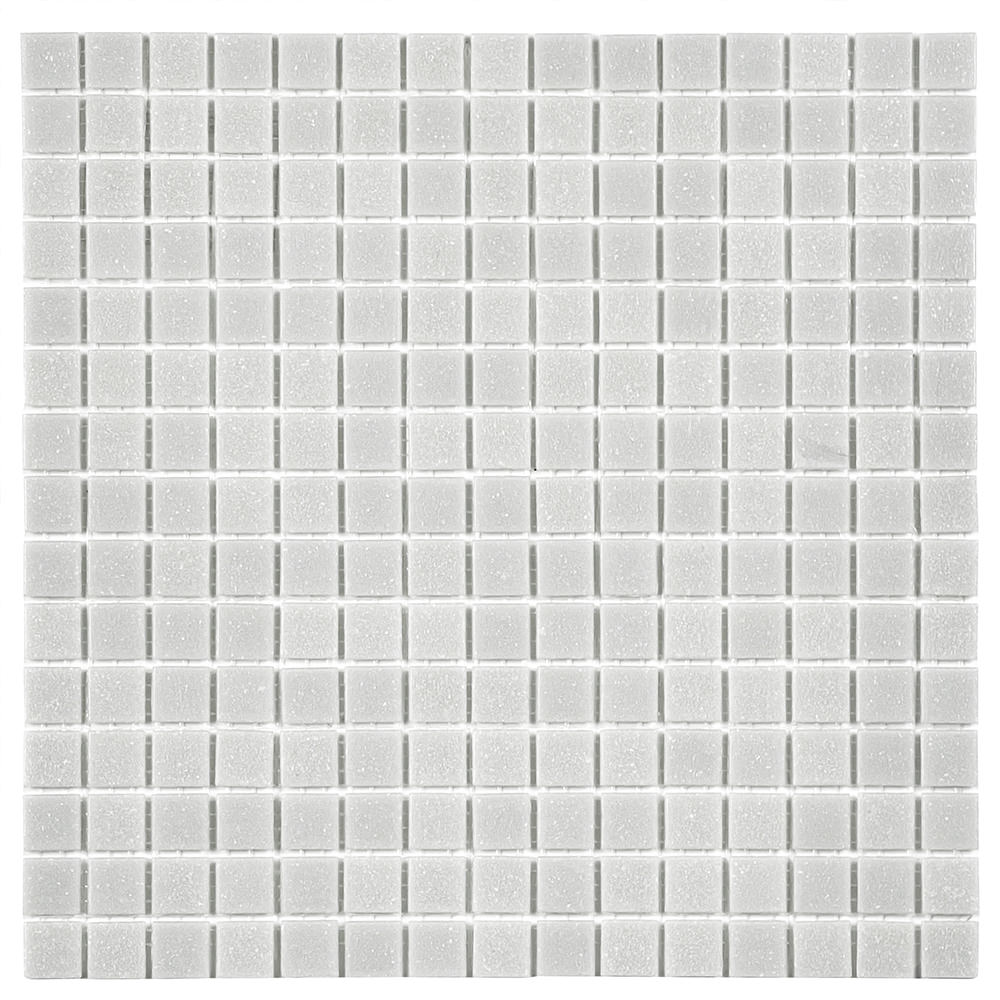 The pool tiles are a common and chic choice when it comes to concluding answers in the world of water. Both for its practical features and for its aesthetic beauty, it is an ideal choice for all pool projects. Our pool tiles in white color come in durable materials including porcelain pool times, ceramic pool tiles, glass pool tiles, and many others. White tiles in swimming pools give you the sensation of cool clear water. These are also very attractive on a hot summer's day. Each assortment of white tiles is also easy to work with from a tiler's point of view. Because here at Gaudi tiles, each sheet has straight edges, and tiles are steadily placed on each sheet. Hence, your finished tiling work will look as flawless as imaginable. 
The Color of Swimming Pool with a White Tile:
The question of picking the white pool tile for your pool is actually very important. The color of the water will not only be determined by the color of the chosen tile but will be powerfully influenced by other factors. These include:
The depth of the water.
The light in the place where the pool is positioned.
The backgrounds.
Whether it is an indoor or an outdoor pool.
The lighting used.
Keep in mind that the deeper the pool, the bluer the water. Sunlight is another significant influence on the color of pool water.
Perkier sunlight will augment the watercolor, while dimmer light will yield a darker shadow. A pool that is bounded by greenery will seem darker and greener, whereas pool water will take on a lighter tone in a desert-like countryside. Because of all these aspects, the white tile is extensively used as a pool tile. It also allows you to attain very stimulating effects. For example, the white tile for the swimming pool together with the luminosity of the sun in blend with the water produces aesthetically outstanding clear blue belongings, as if you are in the Caribbean.
Personalization of Pool Tiles:
We offer more than a hundred customary picks of pool tiles which are encompassed in every pool design we have offered. The standard pool tile is characteristically in porcelain and comes mostly in 6"x 6" measurements, which people mostly prefer to choose.
Gaudi's Business Motto:
The logo of our company is, 'Make Ideal Home Your Home'. Our skilled and expert team at Gaudi is highly driven by quality control and assurance, strict production processes, broad industry experience, innovation, and many more. With the firm and comprehensive manufacturing processes, strict quality control of each tile during the whole process, and the specialized quality examination just to ensure that top-quality products are provided to all of our valued customers.
And with incessant innovation processes in place and advancements in design and expertise, and continuous learning in the arenas of service delivery, we continue to endeavor to produce value and offer customers better value services. Besides all of that, we have more than 10 years of experience in the tiles designing and making industry, and rich expertise in the export trade for the provision of high-quality solutions to customers all over the globe and to satisfy their home designing-related needs and wants. Our biggest aim and reason for existence is to help our customer is realizing their life home goals because we tend to help them in making homes, not houses. With the help of our foreign progressive and high-tech services and expert skill, we try our level best to make sure the on-time distribution of outstanding eminence that would surely meet our dear customer's hopes.
Conclusion:
Our staff at Gaudi would love to help you in choosing the perfect tile for your home. So now you would not have to settle for anything less than picture-perfect. We also have a big assortment of tiles on our website. So now you can rather browse our wide variety of tiles collection while at home or even at work and can give us a call to discuss your own pool design ideas. We can also organize delivery anywhere in the world.