Dance Partner Of Light: Crystal Glass Mosaic Tile
2023.02.16 / By hqt
Some people say that light contains all colors, and when it touches other materials, it will have a nice effect. When the crystal glass mosaic tile is illuminated by light, you will find that the light has a gentle and luxurious atmosphere.
It is not only a beautiful tile but also a very practical decorative tile. It will help you make your home more luxurious while increasing its value.
What Is The Crystal Glass Mosaic Tile?
What is the Mosaic Tile?
Mosaic tile is a type of decorating material that can be used for various purposes. It is usually made from glass, stone, or ceramic, and it can also be constructed from other materials such as wood or plastic. Mosaic tiles are available in different sizes and shapes, which makes them suitable for both indoor and outdoor applications.
They are generally made of tiles of the same shape or different properties. Mosaic Tile created from different materials has their own characteristics.
What's special about Mosaic Tile made of Crystal glass?
Crystal glass is a kind of synthetic stone, which is made by mixing different types of materials. This material is usually used for making floor tiles. Most crystal glass tiles are made from sand, quartz, and other components such as dye or pigmentation. The manufacturing process involves heating the mixture at high temperatures to produce a solid material that can be used for creating mosaic tile designs.
So the crystal glass mosaic tile mentioned here is a kind of mosaic tile spliced by Gaudi using crystal glass.
Crystal Glass Mosaic Tile Is The Perfect Dance Partner Of All Kinds Of Light:
Crystal glass mosaic tile is a material that can be used to create a wide range of projects, including flooring, walls, countertops, and more. However, it is also one of the most versatile materials on the planet. The properties of crystal glass mosaic tile make it an ideal dance partner for all kinds of light.
Here are just a few ways that crystal glass mosaic tile can help you put on the best light show possible:
Create stunning lighting effects for your home:
As a material with high light transmission, glass is very beautiful as decoration indoors and outdoors. Especially crystal glass has higher light transmittance. Gaudi's blue brick electroplated crystal glass mosaic tiles are one such beautiful wall decoration tiles.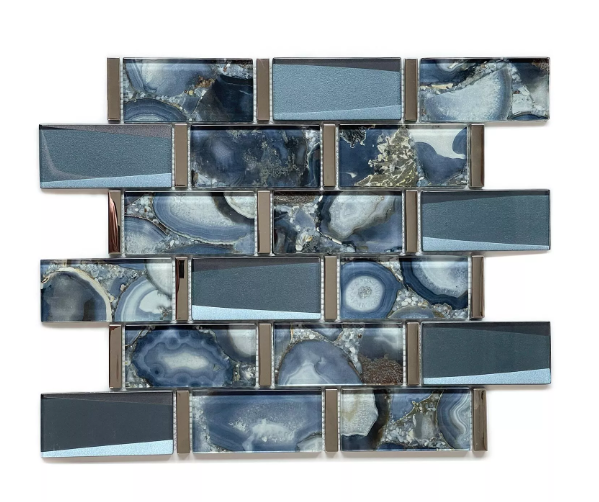 Provides a beautiful background atmosphere:
Crystal glass mosaic tiles provide a beautiful backdrop for any type of lighting system. They have an elegant look that will complement any lighting scheme from modern to traditional. Because they are made from glass, they are highly reflective and will reflect light in all directions so that no matter where you put them, they will look amazing!
Versatile matching style decoration:
Crystal glass mosaic tiles come in many different colors so you can find one that matches your decor perfectly! They can be used as wall coverings or floor coverings depending on your needs at the time. You may want to use them as wall coverings in one room but as floor coverings in another room so that you can match up your decor with ease.
Crystal Glass Mosaic Tile Is Perfect For Luxurious Decor Styles:
Crystal glass mosaic tile is a luxurious decoration that can be used in different parts of your home. It is a beautiful and unique material that will add to the decor of any room.
For luxury homes and hotels:
This type of mosaic tile is often used in luxury homes and hotels because it has such a high-end look and feels to it. You can use these tiles in any part of your home where you want to add some luxury, including bathrooms, kitchens, and living rooms. These tiles are also easy to clean and maintain, so they won't need much upkeep over time.
For a More Modern Look:
If you want to give your home a more modern look, these glass mosaic tiles are an excellent choice. They are perfect for bathrooms and kitchens where you want to add some visual interest with a unique material that adds both color and texture.
For a More Elegant Look:
These glass mosaic tiles are a great option for adding elegance to your home. They are perfect for kitchens and bathrooms because they add visual interest while also making the space feel more luxurious.
Crystal Glass Mosaic Tile Is More Than Just Pretty Tiles:
Crystal glass mosaic tiles are the most popular choice for home and business owners who want to add some style and elegance to their homes or offices. They are very durable, easy to install, and offer a variety of styles at an affordable price.
The biggest benefit of crystal glass mosaic tile is that it comes in a wide range of shapes, sizes, colors, and patterns. You can find crystal glass mosaic tiles with everything from floral designs to geometric patterns so you can choose the one that matches your taste best. These mosaics can be used virtually anywhere in your home or office including countertops, backsplashes, shower walls, and floors, or even outdoor spaces like pools!
Here's the practical value of this beautiful crystal glass mosaic tile:
-It's a durable, long-lasting material that can be used in places where water and moisture are present.
-It's easy to clean and maintain. You can just wipe it down with a damp cloth or mop it regularly with an all-natural solution like vinegar and water. Just make sure not to use harsh chemicals or abrasive cleaners on your glass mosaic tile!
-It's affordable! Crystal glass mosaic tiles cost less than other types of materials like ceramic, stone, or marble because they're made from recycled glass instead of natural resources like clay or sandstone.
Final words:
Gaudi's crystal glass mosaic tile can dance with the lights of the house, adding some luxurious atmosphere to your home. It's the best way to bring a touch of art and color into your home.