What Are The Benefits Of The Brick Sea Shell Mosaic Tiles?
2022.12.09 / By hqt
What Are The Brick Sea Shell Mosaic Tiles?
These brick sea shell Mosaic tiles from Gaudi have a distinctive aesthetic. It's made from panels of natural mother-of-pearl. The natural colors and textures of the shells create a unique sight.
Each tile shines with the unique colorful texture of the shell, adding some artistic flavor to your plain decoration, and making your room more delicate and gorgeous.
The tiles are made from natural materials, and they have a certain degree of irregularity. Therefore, each one has its own unique beauty. They will bring your room a sense of natural charm.
At Gaudi, they appear in neat rectangular shapes. Of course, if you have other needs, you can ask their customer service. They will provide you with professional ODM and OEM services.
Mosaic Tile Is An Art Form:
Mosaic is an art form that involves tiling using colorful or plain small pieces of material. These pieces are often arranged in a pattern or picture and held together with grout. It's been used on floors, walls, and ceilings since people started using tiles to decorate their homes.
Mosaic tiles are small pieces of stone or glass, usually in a geometric shape or pattern, that are used to make larger designs. They can be made of many different types of materials, including ceramic, glass, gemstones, and even metal. Mosaic tiles can be used on floors, walls, and ceilings for decorative purposes.
Brick Sea Shell Mosaic Tiles Are The Perfect Decorative Tiles: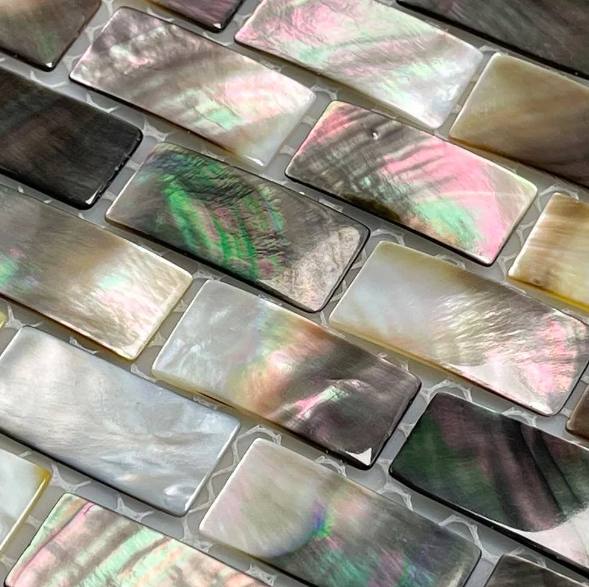 The brick sea shell Mosaic tiles are excellent decorative tiles. As a decorative tile, it has all the qualities it should have. The following will introduce its features to you:
Beautiful and durable: the breath of the ocean
The shells it uses are gorgeous in color. These natural sea shells have a natural texture and brilliance on the surface, not easy to fade or tarnish. The color and luster of these products can stand the test of time, and they may even not change color and deformation for decades.
And, even better, it looks great in any light. Whether it is illuminated by natural light, lighting, etc., the surface color of the shell is more luxurious. You will have different visual perceptions of light from different angles. The combination of small pieces of shells complement each other, showing the mystery of the ocean.
Safety and health: stay away from harmful chemical ingredients
These tiles are radiation-free and pollution-free. Because the shells are all from nature, there will be no peculiar smell after decoration. At the same time, they will not produce harmful chemical components such as formaldehyde. Such products are in line with people's pursuit of consumption concepts for a healthy life.
Durable and moisture-resistant: suitable for every location
Because of the high density of the shell mosaic, its water absorption is very low. Therefore, it has good moisture resistance. Due to its imperviousness and hard texture, the shell mosaic will not deform, and so on. This also ensures its high-quality stability.
Easy to splice: more convenient than other heavy materials
Shell mosaic is composed of small single pieces, its size is small, and its weight is light. Compared with stone mosaic, ceramic mosaic, and glass mosaic, its material is the lightest. In this way, it is not only easy to transport but also easy to splice.
Because it has a very natural and beautiful texture and color, you don't have to worry about it being difficult to splice the perfect design. In other words, it looks good no matter how you stitch it together.
Brick Sea Shell Mosaic Tiles Have A Wide Variety Of Uses:
Another great thing about Gaudi's brick sea shell Mosaic tiles: you can lay them anywhere! It is highly adaptable and fits almost any style of home. Here are some of the house styles it's best suited for:
Modern/Contemporary/Industrial:
This style emphasizes simplicity, and clean lines, and often uses raw materials such as steel, concrete, and glass. Brick sea shell mosaic tiles lend themselves perfectly to this type of home. The natural look and feel will add warmth to your modern space.
Rustic/Rustic-Chic Style:
This style uses natural materials like wood and stone to create a cozy atmosphere. Brick sea shell mosaic tiles can create a beautiful rustic feeling in your home without being too overbearing on the eye. In fact, they blend well with other modern elements like metal fixtures and lighting fixtures.
Traditional Style:
A traditional style home will always have an elegant touch to it. The earthy tones of brick sea shell mosaic tiles will add warmth to any traditional space while still keeping it classy at the same time!
Brick Sea Shell Mosaic Tiles Are Easy To Tile:
In addition, Gaudi's brick sea shell Mosaic tiles are very easy to install. The natural style of this natural style shell mosaic tile is very charming. Here are some common splicing style schemes, hoping to bring you some creative inspiration:
1. Splicing mosaics on the wall at random will be more beautiful. You can use different colors and shapes of sea shells for splicing, which will make the whole room look more magnificent and lifelike. You can also mix different colors and shapes of bricks in one room to create a collocation effect.
2. The splicing route is an important factor affecting the overall appearance of the final product. The most commonly used methods are as follows: a straight line or curved line pattern; and the other is zigzag splicing.
3. Another way is to use wood strips or wood planks as backing boards and then coat them with tiles. It is best not to use plywood as a backing board because its surface is rough and uneven, which makes it difficult to adhesion. The same effect can be achieved by using plywood as a substrate for adhesion if we want to create a mosaic effect for our wall decoration.