Minimalist Line Style: Arrow White Marble Mosaic Tiles
2022.12.09 / By hqt
What Are Arrow White Marble Mosaic Tiles?
Arrow White Marble Mosaic Tiles are a type of tile that is made from marble, which is an igneous type of rock. It is very hard and has a high density.
Marble is a very durable material, so it's perfect for flooring and other applications where you want something that can withstand heavy traffic.
Marble tiles have been used for thousands of years as a building material for both interior and exterior applications. It's one of the most popular materials when it comes to tile floors because it looks beautiful and is very durable.
This tile is made of rectangular marble blocks of the same size and shape. There are sharp and natural black lines between the white marble blocks. These lines form one arrow shape after another. This design is very simple, but it will make your room more elegant and stylish.
What Is The Difference Between Marble Tiles And Other Tiles?
Marble tiles are usually made from crushed marble that has been stabilized with resin or other adhesive. The finished product often has a matte finish that helps reduce the risk of slipping on wet surfaces. This makes them especially popular for use in bathrooms and kitchens, where water spills may occur frequently. They also provide a beautiful accent for any room in your home or business building.
Why Are White Marble Tiles A Better Choice?
White marble tiles have always been a popular choice for home and commercial decor. These tiles are preferred because of their versatility, durability, and timelessness. White marble is a great choice for both indoor and outdoor spaces. You can use them to create an elegant bathroom or kitchen backsplash, flooring for your living room, or even exterior designs like patios and pools.
The Characteristics Of White Marble Tiles: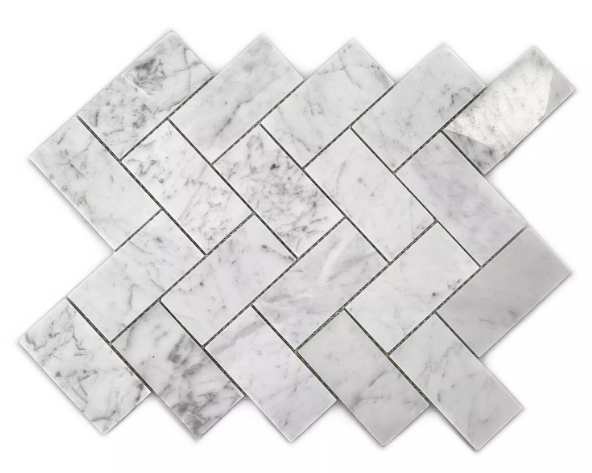 Easy To Clean And Maintain:
White marble tiles are easy to clean and maintain. They are stain resistant and can be cleaned with soap, warm water, and mild detergent. You should avoid using abrasive cleaners or cleansers that might damage the surface of the tile.
Use soft cloths to wipe off any spills or stains on the surface of the tile immediately after they happen so that they don't settle into the pores of the stone and become difficult to remove later on.
Lightweight:
White marble tiles are lightweight, which makes them easy to install and move around. They don't require any special equipment or tools to install. White marble tiles are also suitable for both interior and exterior applications.
Durable:
White marble tiles are extremely durable. They can withstand wear and tear from everyday use, making them ideal for spaces that will see a lot of traffic. This makes them an excellent choice for kitchen backsplashes, bathrooms, hallways, or any other high-traffic area in your home.
Arrow White Marble Mosaic Tiles Are Suitable For Minimalist Decoration Style:
The arrow white marble mosaic tiles are minimalist tiles, which can be applied to the ground laying of family places, as well as to office places, entertainment places, and other places. It's a great option if you're going for minimalist decor.
Minimalist decoration style: This style is characterized by simplicity. The decoration is simple without any luxurious elements. The use of materials is also very limited. This type of decoration focuses on the beauty of simplicity and naturalness. It's very suitable for people who like to live in a quiet and peaceful environment with simple lines and beautiful natural colors.
The following places would look even better if these tiles were used! Here are some applications:
The minimalist decoration style is suitable for the living room:
As an important place in our daily life, the living rooms should be decorated in a way that feels comfortable and relaxing. For this reason, many people choose to decorate their living rooms with minimalist decoration styles. Because they feel comfortable with minimalism and naturalness rather than luxurious decorations that make it look too crowded or shabby.
If you're looking for something that makes your bathroom look like a spa retreat without going overboard with expensive treatments or exotic materials (or both), these are perfect for that! The unique shape makes them stand out from most other options available on the market today, making them ideal for those who want something different.
Perfect Solutions Of The Residential And Commercial Space Surfaces From Gaudi:
If you want to get a better-looking home surface, you can let Gaudi help you. Gaudi is a company with more than 8 years of experience and they have a lot of experience. They will provide you with high-quality tiles. You can choose the material you like, or you can choose the stitching style.
In Gaudi, there are not only minimalist tiles but also exquisite and gorgeous, pastoral styles, and so on. Gaudi's decorative style research in mosaic tiles makes their products very beautiful.
Mosaic Tile is a great decoration:
Mosaic tiles are one of the most popular interior and exterior decoration materials. They can be used in both residential and commercial space surfaces. Mosaic tiles add color, texture, and design to your home or business. They come in many different styles, shapes, and sizes, but all have one thing in common: they're made from natural materials like stone, glass, or ceramic.
Gaudi's Mosaic Tiles come in different types of materials and textures, suitable for indoor or outdoor home or commercial use. The arrow white marble mosaic tiles are more minimal style tiles. If you want to see other tiles, you can also go to Gaudi's official website for details.
Final Words:
If you want to add a minimalist element to your office or hotel bathroom, these arrow white marble mosaic tiles will be a great choice!
In addition, Gaudi provides professional OEM and ODM services. You can send them your blueprints and let them give you suggestions based on your ideas.