Fresh Colorway: Green Crackle Glazed Porcelain Pool Tiles
2022.12.09 / By hqt
What Are The Green Crackle Glazed Porcelain Pool Tiles?
The Green Crackle Glazed Porcelain pool tiles are swimming pool tiles produced and sold by Gaudi. It is not only suitable for indoor and outdoor swimming pools but also very suitable for the bottom of spas and jacuzzis. Because they are good-looking enough, they have a wide range of uses.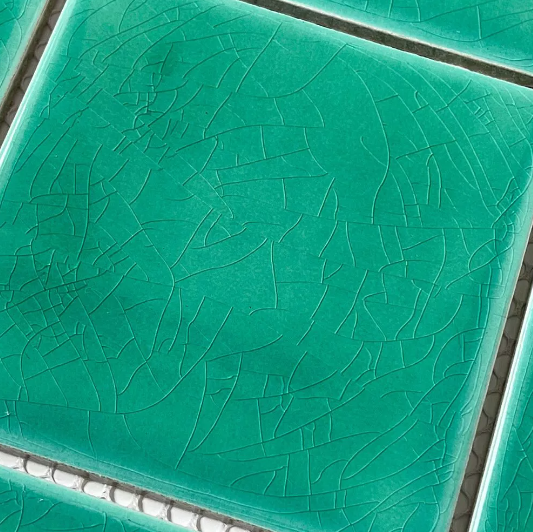 The unique textures:
These tiles are made of high-quality green crackle-glazed porcelain. The tiles have textures unique to ceramics. These textures are like cracks, which exist in the whole tile. These textures add a wonderful artistic touch to the tiles and make them look more elegant and gorgeous.
The harmonious green color:
In addition, you can also see that the color on these Green Crackle Glazed Porcelain pool tiles is not a solid block of color. From its center to the edges, you will find a natural change in color. Some colors will be lighter, for example, its edge is a light circle of green that is close to white. This color will make it look more natural, harmonious, and full of spring.
Why Do People Always Put Tiles On The Bottom Of The Pool?
Pool tiles are the most common type of tile used in swimming pools. They are made from a variety of materials and come in a wide range of shapes, sizes, and patterns.
But do you know why people put tiles under their pools?
It probably all started with the Romans, who put mosaics on the bottom of their pools. They were designed to improve water quality, as they absorb oils and other chemicals in the water. But there are many more reasons to use tiles in your pool:
Tile provides good traction. This makes it easier for swimmers to enter and exit the water and reduces the risk of slips or falls. Tiles also provide a smooth and comfortable surface for swimmers to stand on, which can help prevent injuries.
They can help prevent algae growth, and they add beauty to your pool. They are also easy to clean and maintain. Tiles are not as expensive as other options such as resin-infused concrete or stone, but they still look great and last a long time.
What's So Special About Green Crackle Glazed Porcelain?
Green crackle glazed porcelain is made using a special firing process that produces a unique texture on the surface of the tile. This textured surface is created by applying an underglaze (a glaze that only partially covers the surface) and then firing it at high temperatures to create a crackled effect.
This process creates a beautiful finish that will last for decades with proper maintenance and care.
In addition, the tiles applied to pool tiles have the following characteristics:
They are non-porous:
This means they are resistant to staining and do not absorb water easily, making them ideal for use in swimming pools because they will not stain or discolor like other tile types when exposed to chlorine or other chemicals found in pools.
Resistant to wear and tear:
These green Crackle Glazed Porcelain pool tiles are designed to withstand the harsh environment of swimming pools. They will not fade, peel or crack even after prolonged exposure to chlorine and other chemicals used in pools. This makes them an ideal material for pool installation.
High strength:
These pool tiles are exposed to strong currents during swimming sessions. They must therefore be resistant enough so that they do not break easily under pressure or when they collide with other objects in the water (such as diving boards).
Green Tiles: A Fresh Colorway Make Your Pool Look Natural
We often see the water in the swimming pool as blue or green. But in fact, the water is not blue or green, but because the tiles under the swimming pool are of these colors.
The green color of the water in a pool with green tiles is due to the way the light reflects off of the glaze on the tile. The glaze absorbs some light, but it also reflects some of it. Since blue and red light is absorbed more than other colors, there will be less blue and red light reflected from the surface of the tile, causing the water to appear green.
But green will make the swimming pool look more alive. That's why Green Crackle Glazed Porcelain pool tiles are so popular.
Add personality to your pool;
Enhance the aesthetic appeal of your pool;
Make your pool stand out from the rest;
The natural green hue can add a bit of personality to your design without being too overbearing. You can combine this color with other hues like white or black to create an interesting contrast between materials like stone and porcelain. If you have an outdoor space that needs some extra attention, then green tile could be just what you're looking for!
Gaudi Offers You A Variety Of Green Crackle Glazed Porcelain Pool Tiles:
At Gaudi, you can find a variety of Green Crackle Glazed Porcelain pool tiles. You can choose according to your needs.
For example, you can choose Green and Blue Crackle Glazed Porcelain Pool Tiles. It is a tile made of alternating blue and green ceramics. The combination of blue and green makes it shine on the bottom of the water, making your swimming pool look fresher. It makes people feel as if they are back in the embrace of the sea.
Its chip size is 100*100mm, and the sheet size is 309*309mm. The MOQ is 100㎡. It is very suitable for indoor and outdoor swimming pools.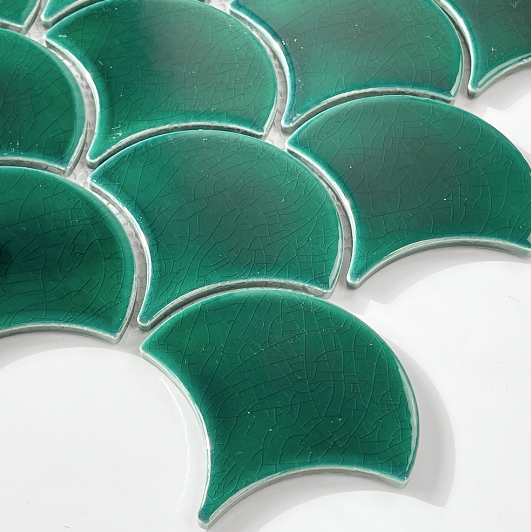 Another very popular tile is the pool tiles with mermaid scales. It has rounded outer curves in the shape of cute mermaid scales one after another. Coupled with the crack design of the ceramic itself, this tile becomes more mysterious and beautiful.