Effective way to add elegance with Flower mosaic tile
2022.07.27 / By hqt
What is meant by Flower mosaic tile?
A flower mosaic tile is a beautiful piece of art made from tiles arranged to create a pattern. These tiles are usually ceramic or glass but may also be stone. This is caused by using a unique technique that creates beautiful patterns on the stone's surface. It combines natural elements of nature with a unique design. If you are looking for a way to add color to your interior spaces without worrying about maintenance or stains, look no further. These beautiful flower mosaics are the best and perfect option.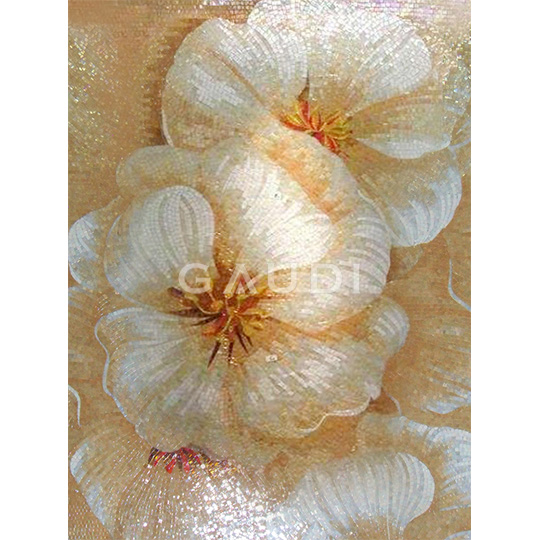 Also known as:
It is also known as "floral tiles," Flower Tiles, or Mosaics because it looks like a flower when viewed from above. It is one of the most popular flooring options today.
Types of flower mosaic tiles:
These tiles are made from porcelain and ceramic materials, which makes them durable and easy to clean. The most common types of Flower Tile include the following:
Traditional Flower Mosaic Tile:
A traditional design consists of small flowers arranged in various colors.
Modern Flower Mosaic Tile:
This style features large floral designs, often in white, cream, or ivory shades.
Why have Flower Mosaic Tiles gained popularity?
In addition to being visually appealing, Flower Mosaic Tile is easy to install and maintain. You can create a unique look in your room using this mosaic tile.
This tile is an attractive option for those who love flowers but do not like the hassle of maintaining them.
These tiles look great on their own, but they can be combined with other styles to create a unique design.
These tiles are trendy because they add beauty and elegance to your house. It is also eco-friendly and safe.
What type of maintenance does a flower mosaic tile do?
In contrast to other tiles, it is not only stunning but also quite simple to install. The pattern on the stone's surface is made using unique technology.

Maintenance-wise, it is straightforward to maintain. You do not need to invest more money in its upkeep.

In contrast to other tiles, it is not only stunning but also quite simple to install.

Its width and dimensions are ideal, and its trustworthy thickness makes installation simple.
Uses of flower mosaic tile:
This is an easy way to create beautiful mosaics for their attractive designs on your walls.
Mosaic Tile looks great in any room and adds a touch of elegance to your house.
· In addition to being used for floors, mosaic tile can be used for wall coverings, countertops, backsplashes, and more.
These tiles have a fantastic look that makes them perfect for kitchen countertops, bathroom floors, etc.
Use this tile as an accent piece around your kitchen island, bar area, or dining room table. It has a natural look that complements any contemporary decor style.
Qualities of flower mosaic tile:
Flower mosaic tile is unique because of its incredible longevity.
They would be beneficial if used indoors and on walls with little usage.
The use of mixed shading to offer a gratifying gradient diversity is the most impressive feature of these tiles.
Its high durability, attractiveness, and excellent slip resistance make it significantly superior to other tiles.
Do not hesitate to invest in these tiles if you want to bring grandeur and flair to your home.
This is one of the less expensive ways to get a dreamlike appearance.
This tile is a beautiful decorative accent that brings warmth and elegance to many types of interiors because they are also practical.
What are the benefits of flower mosaic tiles?
It's not only about appearance. These tiles also offer many benefits to you. Some important are as follows given below:
These tiles have a classic design that features colorful flowers arranged in vases. You will love how they add a pop of color to any space.
It has been widely used as an ornamental floor covering, and now it is also used as a bathroom wall decorating material. In addition to its beauty, the flower mosaic tile is durable, meaning it won't crack or chip over time.
The most crucial features are its dirt resistance and stunning finishes, which capture everyone's attention.
The flower mosaic tile is long-lasting, looks great, and lasts forever if properly maintained. There is no chance of fading as they are resistant to moisture.
It is more affordable and suitable for upgrading. Regardless of price, it has the power to make a bad day better.
These floral tiles are outstanding and go perfectly with house décor. It's made from ceramic, so it won't scratch or stain like other materials even if they are stepped on or walked over.
This mosaic tile is a prevalent flooring material used by homeowners who love natural stone. It has an elegant look and feels.
Conclusion:
These tile sheets in marble, pearl, and glass may be mounted on indoor and outdoor walls and contain precious design materials for residential and commercial flooring. GAUDI selection of flower pattern mosaic tiles combines functionality and beauty. This flower mosaic tile offers a wow element to your floor or makes a striking focal point in your living room with a gorgeous fireplace cladding that can go with any interior design style. Once you use our items, I do not doubt that you'll return them for all of your projects. These tiles are the greatest if you're looking for superior wall decor. Installing these tiles should be the priority to make your area flourish. You will love using these tiles as they look amazing and are easy to install. Visit our page to learn more recommendations for where to put these tiles. So browse through our gallery and choose from these beautiful flowers for your next mosaic project. Start shopping now from our website gauditile.com.