Ceramic Mosaic: Features and Benefits
2021.05.13 / By hqt / Tags: Installation
Features and Benefits of Ceramic Mosaic
Among the huge variety of finishing materials, ceramic tiles are one of the most practical coatings for rooms with high humidity. Today it is common and familiar material. For those who crave originality and exclusiveness, we propose to consider mosaic technology: facing surfaces with small pieces of finishing material, which together makes up original ornaments and artistic canvases.
What it is?
Mosaic is one of the areas of decorative and applied art, known since time immemorial. In a broad sense, a mosaic is a finished picture created using various small particles. Most often, particles for the image are taken homogeneous, approximately the same in size. Today, pieces of ceramics serve as the material for the mosaic canvas.
The mosaic pattern is created in two ways. The first option has been used since ancient times to decorate interiors, as well as cladding facades of buildings. It involves the application of pieces of chips to a drawing of a drawing in a prepared soft surface (soil). The primer can be lime, mastic, cement, or wax. The second method is more modern and involves the initial application of the chips to a separate canvas (fabric, paper, mesh). After that, the canvas is attached to the wall as an independent-facing material.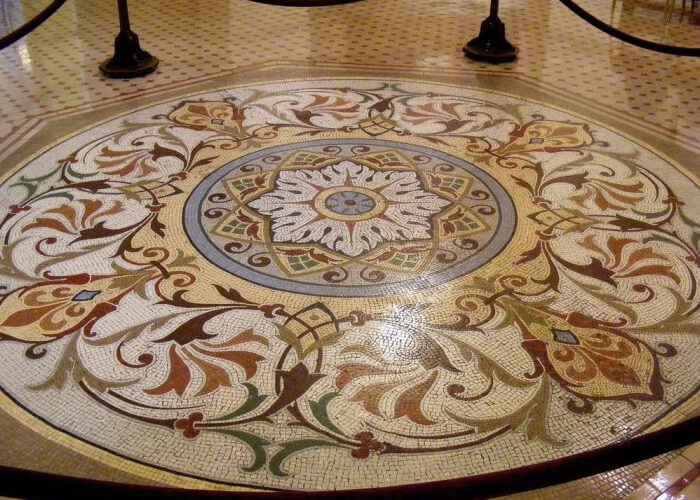 Historical origin
The art of mosaic goes back more than one millennium. Archaeological excavations indicate that the mosaic fragments belong to the III-IV millennium BC. These are preserved pieces of building facades, interior decoration of premises, household items (tablets, boxes). The ubiquity of mosaic technology can be easily explained. This is an inexpensive way of finishing, moreover, durable and beautiful.
In ancient times, when the main method of construction was the processing of monolithic stone blocks, folding panels and paintings from small fragments of stones was less expensive. Mosaics adorned the facades and inner chambers of palaces, cathedrals, and public institutions. Semiprecious polished stones were used, which added a special luxury to the decoration of the room.
In the modern world, mosaic has not lost its relevance. Mosaic decorations from the middle of the last century can be found in the decoration of state institutions, metro stations, and underground passages. Each era brought its own ornaments to mosaic paintings.
Features and Benefits
Due to the small elements of the mosaic canvas, the method is suitable for facing any, including hard-to-reach surfaces. Where it is difficult to get close with large tiles, the mosaic pattern on the grid will perfectly fit. These can be convex parts of columns, niches, structures of irregular geometry. The ability to hide surface imperfections is the main feature and main advantage of the mosaic.
Horizontal, vertical irregularities and imperfections often do not lend themselves to high-quality finishing with hard materials. Mosaic mesh allows you to solve such problems, adding charm to the entire interior. It is easy to care for, not afraid of cleaning agents and wet processing. Among other advantages of ceramic mosaic, there are several:
Strength
Due to the bonding of many small particles, mosaic ceramic tiles are resistant to stress and mechanical damage more than an analogue of traditional size. Ordinary tiles, if accidentally hit, can crack all over the material or break.
Small pieces of mosaic, separated from each other, withstand impacts better.
Low slipperiness
Thanks to the grout used to fill the joints between the mosaic chips, the tiles become less slippery even when moisture gets on them.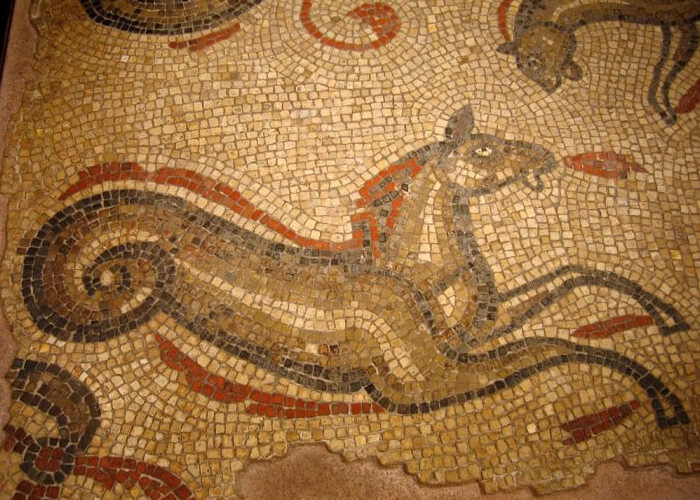 Design and colors
Among the variety of options and models offered, it will not be difficult to choose a mosaic canvas for every style, size and colors.
The disadvantages of ceramic mosaics include their increased cost compared to conventional ceramic tiles. This is due to the complexity of the pattern set and the number of small parts in the product. Mesh ceramic pieces are convenient to apply to hard-to-reach surfaces. Therefore, the ratio of the price and capabilities of the material fully justifies itself.
Module types
Since the process of laying individual mosaic particles on a volumetric surface is too painstaking work for a modern person, special modules were created with ready-assembled mosaic fragments. This greatly simplifies the installation process and avoids color errors when uploading a picture. By type, modules are divided into 2 types.
Traditional
Mosaic chips-chips have already been applied to larger clay tiles, the finished facing material is applied to the surface in the usual way of laying tiles.
Mesh
The chips are applied on a flexible base (fibrous mesh or paper), which allows them to cover the surface, rolling out a roll, as when gluing wallpaper.
Forms
In modern streaming production, the shape of the mosaic is usually standard. It may be:
Rectangular;
Square;
Triangular;
Oval;
Round.
The hexagonal honeycomb shape is especially attractive. It gives the interior an unusual look, creates the feeling of a convex embossed surface. Such tiles are more often used in high-tech or modern styles. In a certain color scheme, it gives the interior a futuristic look. For stylizing old ornaments, creating mosaics in vintage or retro style, substandard (pieces of broken ceramics of different sizes and shapes) is better suited.
Putting patterns out of them yourself is fascinating but painstaking work. Therefore, there are ready-made versions of tiles made of different-colored shards on sale.
Color solutions
The palette of shades of ceramic mosaic can combine a wide variety of options. Light, almost imperceptible transitions from one range to another are suitable for decorating rooms with a calm design. The checkerboard combination of bright contrasting chips will allow you to focus attention on a separate area of ​​the surface. However, a room completely lined with colorful mosaics can be tiring on the eyes.
For the optimal balance of mosaic shades, it is necessary to adhere to the principle of the golden mean: monochrome surfaces can be combined with variegated ornaments, bright panels, multi-colored borders, abstract elements.
Application in the interior
The mosaic is perfect for cladding vertical, horizontal surfaces, as well as hard-to-reach niches and curved structures. Mosaic tiles can occupy the entire surface, represent a fragmentary pattern, panel or border. Ceramic mosaic is widely used when decorating kitchen premises in the form of an apron over the sink and stove.
Decorating the surface with tiled mosaics allows you to hide splashes, drops of steam and grease due to small details. At the end of the kitchen work, it can be easily washed with household products. For the same reasons, ceramic mosaics are suitable for kitchen flooring.
It is convenient to lay out hard-to-reach places, boxes for pipes and plumbing fixtures in the bathroom with mosaics. However, the abundance of variegated small mosaics visually reduces the room. Calm deep colors are often used for bathrooms and toilets. For example, a long blue strip in the form of a border around the perimeter of snow-white walls will bring revitalizing notes into a monochromatic space and emphasize the geometry of the walls.
In rooms, you can achieve a stunning effect by combining black and white shades of chips. This combination will suit art deco and high-tech styles.
For classic interiors, we recommend antique-style wall panels. Artificially aged mosaics in pastel colors will decorate interiors in the style of Provence and Mediterranean country. Ceramic mosaic with a pattern of natural stone or brick will create a visual feeling of natural texture for a hallway or loft-style rooms.
Choosing a mosaic as an element of interior decoration, do not be afraid to experiment and combine different textures and shades. Ceramic mosaic is an art form that, even in an uncomplicated pattern or abstract overflow of colors, is able to give a room a special chic and originality.