Ceramic Mosaic: a Variety of Choices
2021.05.13 / By hqt
The Choices of Ceramic Mosaic
Interior decoration of a home is a painstaking, laborious and costly process. Its result depends on the correct choice of finishing materials and the quality of the cladding. Among the variety of options, you can easily choose everything you need to create any interior. One of the most effective finishing materials is ceramic mosaic.
Distinctive characteristics
Ceramic mosaic is a popular material used for interior decoration of various premises.
Several main characteristics of products of this type should be highlighted:
For the manufacture of mosaic tiles, manufacturers use types of ceramics with different levels of moisture resistance. It is worth paying attention to when choosing products that will often come into contact with water.
Also, tiles can have a different coefficient of wear resistance. When choosing a tile material for creating a floor covering, you need to choose a tile with increased abrasion resistance. For interior wall decoration, tiles made from any tile are suitable.
For facing the surfaces of open areas, attics, you need to take into account another important property of the material - resistance to low air temperatures.
When choosing a mosaic for cladding flooring, slipperiness is an important factor. In this case, you should give preference to special matte or satin tiles. It is worth noting that the use of a modern anti-slip grout when tiling the floor covering minimizes this not-so-pleasant feature.
There are many options for mosaics of various designs on the market. It can be plain tiles of various colors, products with patterns, translucent elements or glitter options. The surface of the mosaic tile can be completely different: smooth, matte, glossy, embossed, with streaks, interspersed, and so on. When choosing a mosaic design, you should focus on the type of room and surface, personal taste and interior features.
The small size of the mosaic tiles allows you to make the cladding not only a flat surface but also a curved one.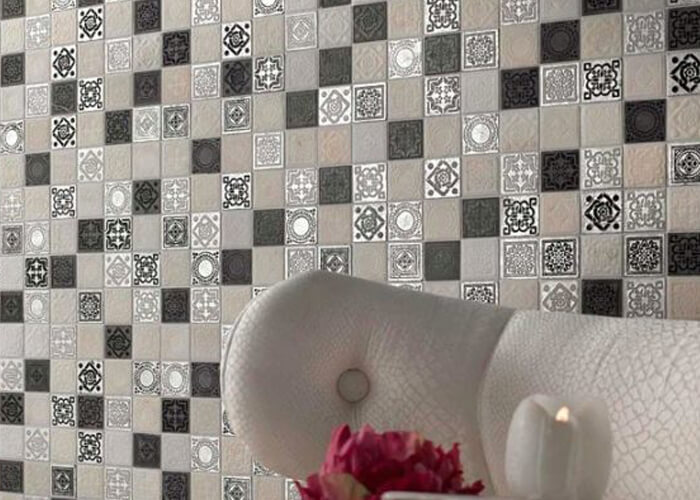 The high popularity of mosaics is due to the presence of a large number of positive characteristics of the material:
This type of facing material is characterized by increased strength, resistance to mechanical stress. Such a coating will delight you for more than one year, without losing its qualities and original appearance.
The cladding is resistant to high humidity. Excellent technical characteristics allow the use of ceramic mosaics for cladding bathrooms, saunas and other similar premises.
Ceramic mosaics are ideal for exterior decoration of stoves and fireplaces, as they perfectly withstand high temperatures.
Such cladding is quite easy to care for. Light dirt can be removed with a regular damp sponge. When treating stubborn dirt with chemicals, the material does not lose its original external data.
The versatile and practical mosaic is used for the interior decoration of various premises. A variety of shades (green, blue, red, and other colors) and textures, combined with the imagination of the master, guarantee a modern, original coating of any surface. The tile can be round, triangular, square, or long, elongated. It can be a ready-made composition on a soft base or independent elements that open up wide possibilities for design.
Environmentally friendly materials are used for the production of ceramic mosaics. The cladding does not emit toxic substances, so it can be safely used even for decorating bedrooms and children's rooms.
However, there are some negative points worth noting:
Some types of mosaics are expensive (depending on the material and manufacturer).
Surface cladding with ceramic mosaic is a rather complicated and time-consuming process. This is due to the presence of numerous small elements that make up the final coverage. It is necessary to have certain knowledge, skills and experience. Before proceeding with the facing work, you need to carefully study the features of the laying process. If you have doubts about your abilities, it is better to seek help from specialists. The services of qualified craftsmen for surface cladding are quite expensive, but you will get a high-quality result.
Laying methods
There are several ways to lay the mosaic.
The single color cladding looks pretty good. For this finishing method, you can use both ordinary smooth tiles and embossed products.
"Mix" is a variant in which tiles of several shades are used. These can be contrasting colors or close, harmoniously combined shades. You can also use matte and glossy tiles at the same time.
"Gradient" is a very effective decoration technique. The tiles are laid so that the color changes smoothly from one edge of the surface to the other. You can use tiles of several similar colors with the same surface. Matte and glossy tiles cannot be combined here.
The creation of a specific image requires the special skill, imagination, strength and patience of the master. In the process of such cladding, real works of art are created.