Why Choose 6mm Thick Inkjet Marble-Look Recycled Glass Tile?
2022.12.09 / By hqt
What Are The 6mm Thick Inkjet Marble-Look Recycled Glass Tiles?
The 6mm thick inkjet marble-look recycled glass tiles are made of strong durable material. The surface is treated with a protective coating to help prevent damage during installation. They are very easy to install and can be used in both residential and commercial applications. The inkjet marble-look tiles are available in a variety of colors, which will add style to any room.
The unique appearance: Marble-Look
It has a unique appearance. At first glance, you'd think it was made of thick natural marble. But actually, it's made of Recycled Glass. Gaudi used their prowess to design the glass into an inkjet-patterned marble look. Utilize the plasticity of glass to create a more elegant and natural stone texture.
The thickness: 6mm
Also, you can notice that it is 6mm thick. The marble of this thickness is very heavy. But it is lightweight glass, so the weight is only 1.37 kg. Such lightweight materials are very conducive to the installation process of decoration and save you a lot of expenses.
Many people like marble tiles because they like the natural texture. Now Gaudi's 6mm Thick Inkjet Marble-Look Recycled Glass Tiles can achieve the same texture. The following will introduce you to the difference between tiles of this material and real marble material.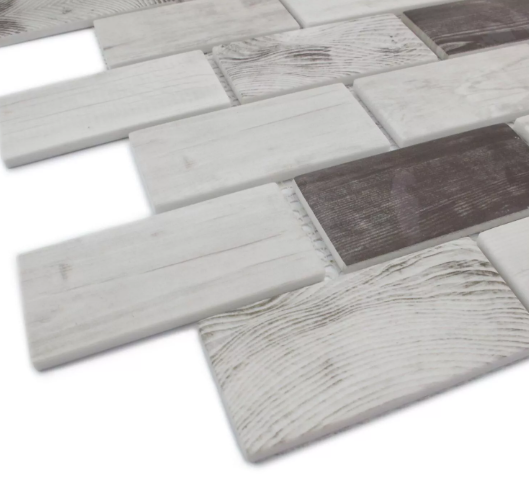 What Is The Difference Between Marble-Look Recycled Glass Tiles And Marble Tiles?
Many people are confused about the difference between marble-look recycled glass tiles and actual marble tiles. While both have the same look, they have different properties.
Marble-look recycled glass tiles are made of glass that has been crushed into tiny pieces and then coated with resin to give it the appearance of marble. The result is a tile that looks like real marble but has all the durability of glass, such as easy cleaning, no need for sealing, and low maintenance requirements.
Marble tiles are made from natural stone mined from quarries around the world. This stone is then cut into slabs and polished to create smooth surfaces suitable for flooring applications. In some cases, it may take weeks or even months before this finished product reaches your home or business.
Marble-look recycled glass tiles are a great alternative to real marble because they provide the same look at a fraction of the cost (approximately 70% less). They are also much easier to install than real marble due to their lightweight (about 1/3 lighter than real marble).
Why Choose 6mm Thick Inkjet Marble-Look Recycled Glass Tile?
Gaudi's 6mm Thick Inkjet Marble-Look Recycled Glass Tiles are functional and do a great job of protecting your home.
As a protective panel for walls:
First and foremost as a tile, it provides a layer of protection for your walls. It has strong hardness and can resist the impact of external force. It is scratch-resistant, so it will not get damaged easily. The tiles have a high-quality finish that gives them a luxurious look.
Avoid infiltration of moisture:
The tiles are waterproof and can prevent moisture from penetrating the wall. This keeps your home safe from mold, mildew, and other harmful substances. The material is low in porosity, which means it doesn't absorb water easily. It also creates a good air barrier that prevents air leakage.
To hide wall-stains:
If you have stains on your walls, you can use porcelain tile to hide them. It has a natural shine and texture that can help mask any imperfections in your walls. The tiles are available in many different colors, so you can choose one that matches your home decor.
Noise reduction function:
The tiles can also help reduce noise. They have a high sound-absorption capacity and can block out loud sounds, such as traffic or construction. This can help make your home more comfortable by reducing the amount of outside noise that enters through cracks in the walls.
It Can Make Your Light-Colored Space More Elegant:
In addition to strong practical functions, it also has a wide range of decorative uses. Gaudi's 6mm Thick Inkjet Marble-Look Recycled Glass Tiles have a wide range of decorative uses. It can be used to make your light-colored space more elegant, create a modern and fashionable look in your bathroom or living room, or even add a bit of glamour to your kitchen backsplash.
It Will Give You A Better Visual Experience:
The marble-look tiles are also very good for your visual experience. They can make your room look spacious and elegant, especially if you use them in combination with other materials like wood or metal.
It Can Be Used In Many Places:
This type of tile can be used in many places such as your bathroom, kitchen, living room, or even outdoor patio area where you want to add some extra elegance to the area.
It Is Suitable For Backsplash Wall Transformation:
This tile is also very suitable for your backsplash wall transformation. If you have plain white or beige tiles and want to change them, this type of tile can be used to give your kitchen a whole new look.
Whether you're looking to add elegant detailing to your light-colored kitchen or have the right tiles for your café. These 6mm Thick Inkjet Marble-Look Recycled Glass Tiles will do the job.
Final Words:
Gaudi's 6mm Thick Inkjet Marble-Look Recycled Glass Tiles offer great functional and aesthetic value. So choosing them as your interior tile decoration is a good decision.
As a company with many years of operating experience, Gaudi knows how to provide customers with more perfect ceramic tiles. You can also ask them for more professional solutions.
If you want to customize unique tiles, you can also ask Gaudi's customer service for more detailed information. They will be happy to provide you with professional ODM and OEM services.