Mother Of Pearl Mosaic Tiles: Perfect For The Bathrooms
2023.01.13 / By hqt
Marine-Style Bathrooms Are Trending In Fashion:
The marine-style bathroom is an eclectic mix of nautical, industrial and rustic design elements. It features a neutral color palette with touches of wood and metal accents. In addition, people also like to lay some more natural tiles in the bathroom.
We've seen a lot of marine-inspired decors lately, and it's no surprise that this style is making its way into the bathroom. The colors of the ocean are calming and natural - which makes sense since we spend so much time there. If you want to upgrade your bathroom with a fresh look, consider these ways to bring the beach indoors.
1) Artwork:
If you want to impress with your next home renovation project, consider hanging some art from local artists that depict the ocean or coastal regions (such as those found on Etsy).
2) Tiles:
If you're looking for a simple way to add a coastal vibe to your bathroom, consider laying some natural stone tiles on the floor. They'll be easy on your feet and they'll look great with any color scheme or decor style.
So what tiles will give your bathrooms a more marine-style look? Here I recommend you choose mother-of-pearl mosaic tiles from Gaudi.
What Are Mother-Of-Pearl Mosaic Tiles?
Mother of pearl is a material that is made from the shells of bivalve mollusks. The mother-of-pearl tiles have a very unique and attractive look. They come in a wide variety of colors, sizes, and textures.
One of the most common uses for these tiles is flooring. They are often installed in bathrooms and kitchens because they provide an extra layer of protection against moisture, which makes them great for kitchens and bathrooms where there is water present regularly.
This type of tile has been around since ancient times and has been used by many different cultures throughout history to create beautiful artwork and other forms of decoration that could be found throughout their buildings and homes at all times.
They can also be used as a backsplash material, which provides an elegant look while protecting the walls from getting damaged by food spills or other liquids that may leak onto them during use.
Gaudi offers mother-of-pearl mosaic tiles in different shapes, textures, and colors:
This is the most classic shape tile. Round or square tiles work well in your bathroom, and the texture of mother-of-pearl will give your bathroom a natural ocean vibe.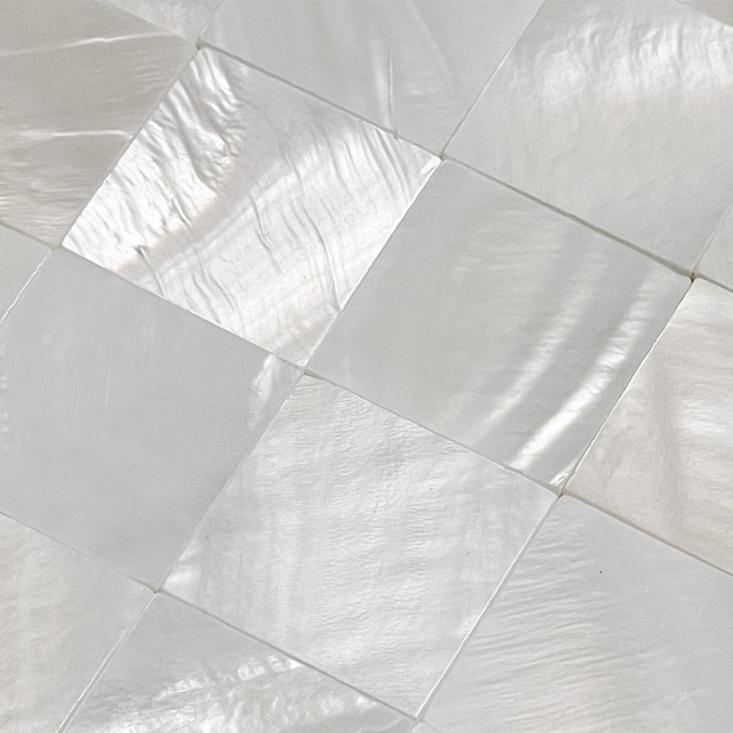 This type of tile is very popular in bathrooms, and it can be used to create a beautiful backsplash or accent wall. The scalloped shape adds elegance to any space, and it's easy to install since there are no grout lines to worry about.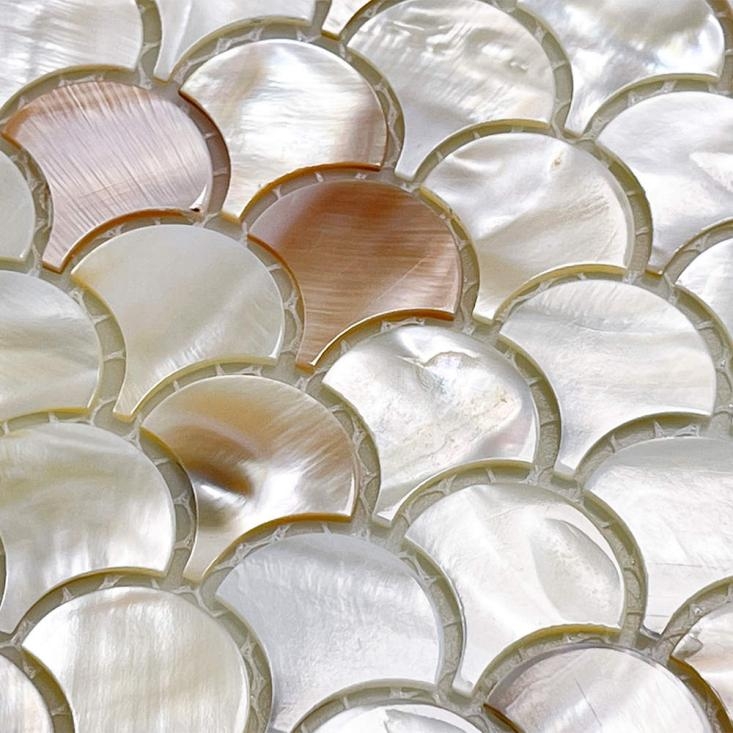 These tiles are great for creating interesting geometric patterns on your bathroom walls. Ambilight mother-of-pearl gives these tiles an even more gorgeous look. Whether it is a personal bathroom or a bathroom in a hotel or high-end residence, this is a good choice.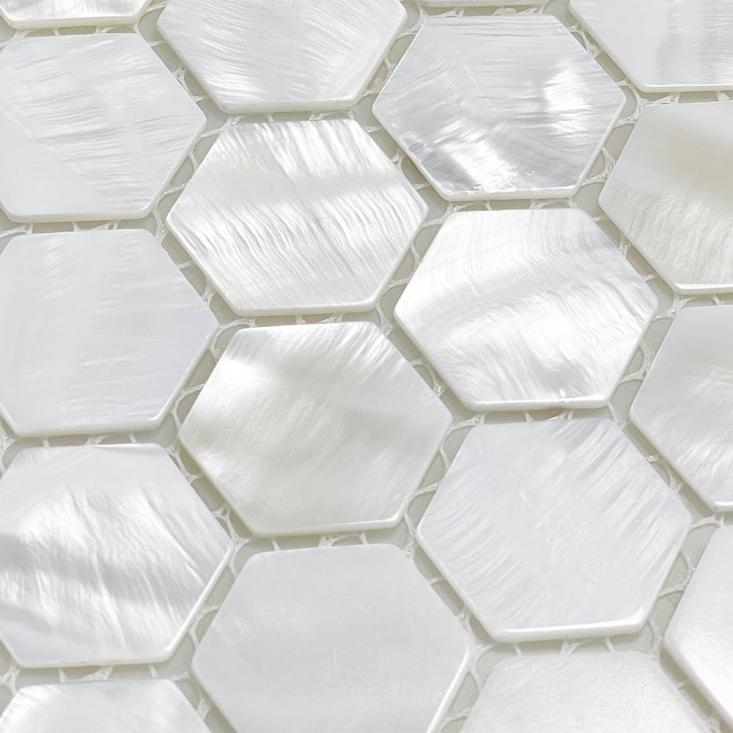 At Gaudi, you can also find beautiful mother-of-pearl mosaic tiles in many different shapes. They are all made of natural mother-of-pearl material, with a natural and rustic texture, which makes people feel like they have walked to the sea.
Why Are The Mother-Of-Pearl Mosaic Tiles Perfect For The Bathrooms?
The mother-of-pearl mosaic tiles are perfect for bathrooms. It is a unique kind of tile that is made up of a mother-of-pearl. These tiles are available in different colors and designs. It is an amazing option for those who want to give their bathroom a new look.
These tiles have great aesthetic and practical value and are the perfect choice for your marine or natural bathroom:
Aesthetic Value: Add Sea Breeze to Your Bathrooms
The mother-of-pearl mosaic tiles have a natural, attractive look that has been used in bathrooms since ancient times. These tiles give your bathroom a unique look that will make it stand out from other bathrooms.
The mother-of-pearl tiles can create a relaxing ambiance with their calming color tones, which are perfect for a bathroom where you need to relax after a long day at work or school. They can also be used as a complement to other decorative items in your bathroom such as bathtubs, shower curtains, or even walls.
Practical Value: Reduce Maintenance Costs For Bathrooms
1. They Are Durable And Long Lasting:
Mother-of-pearl tiles are made from natural materials and can last for a very long time. They can be used in any bathroom, including the kitchen and other wet areas, because they are resistant to water, moisture, acids, and other chemicals that can damage regular ceramic or porcelain tiles.
2. They Are Easy To Clean And Maintain:
Mother-of-pearl tiles are easy to clean because they are nonporous and don't absorb stains or dirt. They can be cleaned using regular household cleaning products, or you can just wipe them down with a damp cloth.
3. They Are Waterproof And Stain Resistant:
Mother-of-pearl tiles are waterproof and stain resistant, so they won't get damaged by water or staining. You can use them in any bathroom, including the kitchen and other wet areas.
So in summary, this kind of tile is very suitable for bathrooms or other wet places. Its aesthetic value and practical value make it the choice of many people. Mother-of-pearl mosaic tiles are also one of Gaudi's best-selling products.
Final Words: Mother-Of-Pearl Mosaic Tiles Are Good For Any Style Of Place
Whether it's a marine-inspired bathroom or anywhere else, you can lay these tiles. You can use them to make a statement, or you can choose a simpler design that will blend in with your existing decor.
The beauty of mother-of-pearl tiles is that they are so versatile and easy to work with. If you want something unique and different, they're a perfect choice.