Characteristics of Metallic mosaic bathroom tiles
2022.07.27 / By hqt
What is meant by a metallic mosaic bathroom tile?
 A new trend in bathroom design is mosaics as wall coverings. These tiles are made from ceramic or metal pieces that are set together to create an interesting pattern. Metals have always been used for decorative purposes, but now they are incorporated into bathrooms. Some are made of stone, while others are made of metal.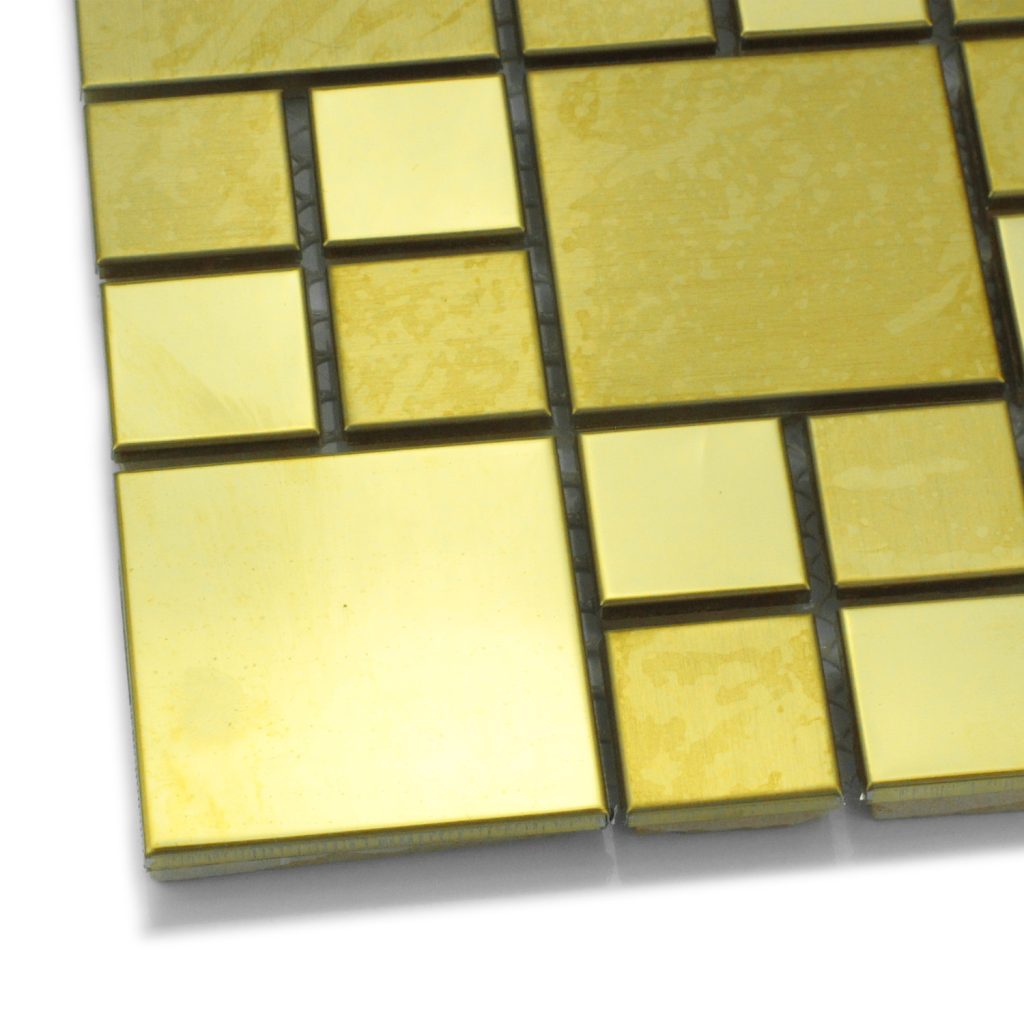 Origin of metallic tiles:
Metallic tiling has been around for centuries. It was initially made from ceramic or stone, but new materials were developed as technology advanced. One such material is metal. Metal tile is one of the most popular types of flooring today because of its durability and aesthetic appeal.
Unique Tile Design that Adds Style to Your Bathroom:
A Unique Tile Design Style to Your Bathroom. These beautiful metallic mosaics are perfect for bathrooms. They look fantastic when installed on bathroom walls, floors, or countertops.
They will love our products because they are easy to install and maintain. Do not worry about water damage because these tiles are impervious to moisture. They will love their sleek look and high-quality construction. In addition, they are resistant to staining and scratches. They are also easy to clean.
Metallic mosaic bathroom tiles are made from glass, ceramics, and metal. Ceramic and porcelain are two primary materials used in making bathroom tiles.
With its glossy look, modern design, and high resistance to wear and scratches, this bathroom floor tile would be perfect for your space! Its metallic look makes it ideal for both modern and traditional bathrooms.
It has a beautiful appearance and an elegant design. Metallic tiling is one of the homeowners' most popular choices when choosing bathroom tiles. Metallic tiling is also known as metallic mosaic tiles.
Metallic mosaic bathroom tiles are perfect for creating a modern look. This is a unique kind of bathroom floor tile made from recycled aluminum or copper sheets. It has an incredible shine, looks great, and lasts forever.
Characteristics of metallic mosaic bathroom tiles:
There are following characteristics of mosaic bathroom tiles are discuses in the given below:
Metallic mosaic for bathrooms, mosaic tile is increasingly making an appearance in other installations, such as tubs, splashes, walls, and countertops.
Compared to other tiles, its qualities are indispensable.
If you contrast it with other tiles, you will see that it is significantly superior and deserving.
Mosaic tile has the power to both enliven and illuminate a drab and lifeless area.
It is ideal for all kinds of extreme temperatures thanks to its heat and fire resistance properties.
After installation, there is no need to worry about stains; even when you clear a stain, the tile's durability improves thanks to the aluminum.
They have a beautiful shine and are easy to clean. A metallic mosaic bathroom tiles is a high-quality tile made from ceramic powder mixed with metal oxides.
Bathroom tiles made from natural materials usually have a glossy surface. On the other hand, synthetic ones tend to be matte. They are available in many colors and designs.
Metallic tiling is characterized by its reflective properties. It is used as an accent or a decorative element in the bathroom. It may also be combined with stone or ceramic tiles.
A bathroom tile is the most crucial component of the bathroom because it beautifies the space and is convenient. Therefore, choosing a good one should be done wisely. This article gives you tips on what to look out for when shopping for new bathroom tiles.
It can adapt exceptionally well to both the view of progress and the ornamental way of life.
Where can utilize mosaic tiles?
Mosaic tiles may be used to create stunning designs on bathroom walls and floors. Why? They establish an accent that offers a bathroom a specific break-up in addition to the large-format tiles. The bathrooms remain timeless. Excellent accents may be created, especially in small spaces like the bathroom. Highlighting unique elements, like a gorgeous bathtub, is one option.
Application of Metallic mosaic bathroom tiles:
A new trend in tile design is coming out. It is called 'Metallic Mosaic' and has been used on many projects worldwide.
This type of tile is made up of small pieces of metal that have been fused together to create an interesting pattern
Tiles are a great way to add some sparkle to your bathroom decor.
He believed that people should be able to enjoy the beautiful design on their bathroom walls without having to do much work.
The choice of tile is one of the essential elements when designing a new bathroom;
To create an elegant look without spending much, choose a metallic flooring material that suits your style.
Metallic ceramic flooring is an excellent option for both modern bathrooms and classic ones
A stylish bathroom does not have to be boring! We know a thing or two about decorating with modern metallic mosaic tiles.
Conclusion:
Metals are one of the best well-known selections when it arises to designing a bathroom. They are looking for a way to create a unique bathroom design. Metallic mosaic bathroom tiles are a great choice. They are very durable and long-lasting. With their natural beauty, they add charm to your house. They are also resistant to heat and cold. They are also ecofriendly. GAUDI offers top-quality products at affordable prices. We offer the most cost-effective way to obtain an effective outcome. The tiles you select are worthwhile to buy. You can rely on us not just once but all the time. Our number one priority is to ensure your complete satisfaction. To know more about these tiles, visit our website gauditile.com.