The most exclusive Metal linear mosaic tile for decoration
2022.07.27 / By hqt
What is meant by a material?
The use of metal mosaics is extensive. It is occasionally blended with granite, marble, or stone. Mosaic is the most valuable and appealing finishing and decorative material from the vast selection.
Additionally, this material may face various surfaces, including curved and rounded ones, unlike plain tiles.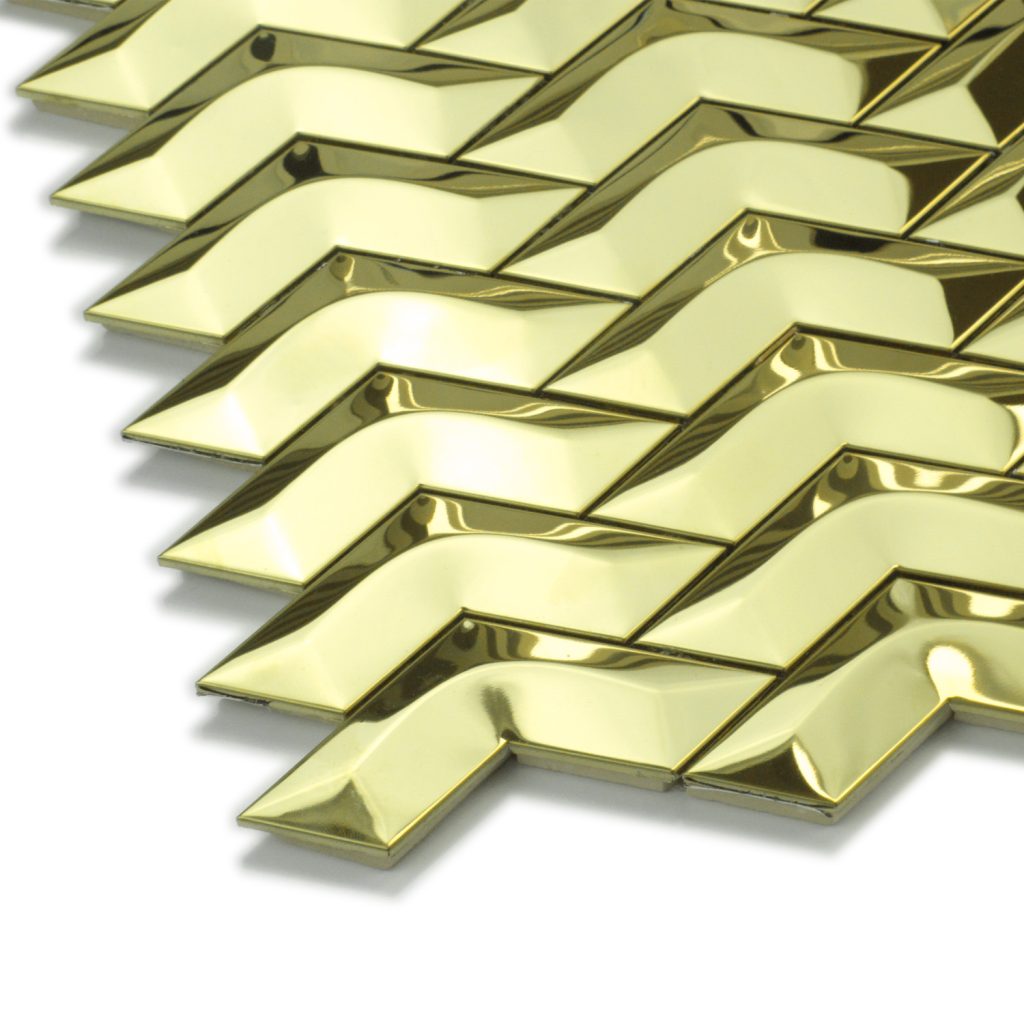 History of mosaic:
The art of mosaic involves placing tiny, multicoloured pieces of solid material called chips (or chips) on a plane to form patterns and ornamentation. The word "mosaic" is translated as "made of fragments" in Italian. Natural stone, smalt (multicoloured glass fragments), ceramics, wood, and metal are the most often used materials for mosaic canvases.
Over many centuries of growth, mosaic has seen an astonishing amount of change, evolving into a skill that employs multicoloured mosaic tiles with pre-made drawings and patterns as finishing materials. Such tiny tiles are used to create mosaic compositions using multicoloured tiles or the patterns and designs the maker had designed.
These artworks are mostly made of smalt (multicoloured glass fragments) and stones, both man-made and natural. Additionally, the materials used in the compositions are mixed to produce the play of light and shadow. Individual orders for unique mosaics made with non-traditional materials and valuable stones and metals are frequently placed for the interior decorating of buildings.
What is meant by a metal linear mosaic tile?
Metal Linear Mosaic Tile is an innovative new product that combines natural stone's beauty with ceramic tile's durability. Tile is a type of ceramic flooring that is made up of small pieces of metal. It looks like stone but is much more durable. It's perfect for kitchens, bathrooms, fireplaces, and outdoor. It is a fantastic way to create beautiful designs and patterns on floors.
A metal linear mosaic tiles composition:
A mosaic is constructed of metal and stone. The metal's shine simultaneously releases the warmth and dullness of the stone. Furthermore, the mosaic's monotone metal components will be softened by the stone's inherent pattern. Mosaic made of metal is used as a finishing touch. It is made in the shape of tiny metal tiles, enabling you to implement a variety of design concepts. It may be used to face the floor as well as the ceiling. Such a mosaic may occasionally be used to adorn stairs. She also frequently has a restroom and even a pool along her sides.
Characteristics of metal linear mosaic tile:
Additionally, metal linear mosaic tile provides a variety of Characteristics, including:
Reliability
Resistant to variations in temperature and humidity
Different forms are used for mosaic elements, including square, diamond-shaped, oval, rectangular, and hexagonal.
Likewise, mosaic interest. It has a metallic gloss as well.
This mosaic is frequently utilized in techno-style home design. The floor, walls, and ceiling are also covered with metal mosaics.
Furthermore, it occasionally acts as a step ornament. The most well-liked type of finishing material is mosaic.
It is frequently used to adorn humid environments. It is perfect for lining bathrooms, swimming pools, and kitchens.
The beauty of metal linear mosaic tile:
Because of the cover's unsurpassed moisture resistance and longevity, mosaic coverings successfully combine their beauty and dependability. As a result, mosaic is used as a face material for building façade decoration and decorating damp interiors. It is distinguished by using traditional materials, such as smalt, wood, bone, metal, and natural stones like onyx, travertine, and marble, to execute paintings and different designs.
Types of mosaic tiles:
Artisans use an ancient technique to create beautiful designs on floors and walls. It's also called metal linear mosaic tile or "mosaic tile." Parquetry is a decorative technique used to create intricate designs on wood. Parquetry is a type of flooring made from thin sheets of wood veneer or other materials glued together to form a pattern.
Marquetry is a craft where patterns are cut out of wood or stone using tools such as saws, drills, chisels, and files. A metal linear mosaic tile is a type of tile made from a series of thin strips of metal joined together by small pieces of ceramic
A new type of flooring has been developed by combining the look and feel of natural wood with the durability of cement. It's called "metal Linear Mosaic Tile," perfect for homes and offices; inlay is used to create intricate patterns on ceramic tiles.
A block mosaic is a style of flooring with large tiles made of different materials like stone, marble, wood, etc. It is suitable for both indoor and outdoor applications.
Use Metal Linear Mosaic Tile:
Excellent choice:
Metal Linear Mosaic Tile:
Flooring is an excellent choice for homes in almost any climate. It comes in various colors and textures, making it a perfect choice for anyone looking for a new look in their home. In addition to its aesthetic appeal, metal linear mosaic tiles have several advantages over other materials such as wood or ceramic.
Tile is a unique material used for flooring. It has many applications, including commercial and residential projects. It is an ideal flooring choice for commercial spaces such as retail stores, restaurants, offices, and more. It's durable, easy to clean, and looks great in any setting.
Conclusion:
Metal Linear Mosaic Tile is a modern and unique design that will add some flair to your bathroom or kitchen. It has an attractive pattern on its surface that makes it look great. A creative way to decorate your space with metal linear mosaic tiles. These beautiful tiles bring out the beauty of your walls. They look great in any room! GAUDI products are made from high-quality materials, and we guarantee the best performance. We have made sure that our product is safe and durable. We provide excellent customer service and technical support. We hope you enjoy using our products, and feel free to contact us anytime. So what are you waiting for? Check out our products and order your own now from our website gauditile.com.