How to Use gold glass mosaic Tile wholesale to create a glamorous look
2022.09.14 / By hqt
What is meant by a gold glass mosaic tile?
For your home, gold glass mosaic tile wholesale is the ideal option. It is ideal for bringing a high-end, designer sense to any environment because of its great appearance and feel. Gold glass mosaic tile is a fantastic alternative for busy families or anybody looking for a low-maintenance tile solution since it is very simple to clean and maintain.
The newest decor craze in homes is gold glass mosaic tile. This opulent tile is ideal for floors and accent walls, and backsplashes. It's simple to understand why this tile is so well-liked; it's classy, distinctive, and gives every area a hint of luxury.
Using glass mosaic tile is a luxurious and elegant method to give your home a touch of elegance. Gold glass mosaic tile is particularly lovely and can give any area a sense of grandeur. It is simple to install and maintain and may survive for many years with proper maintenance.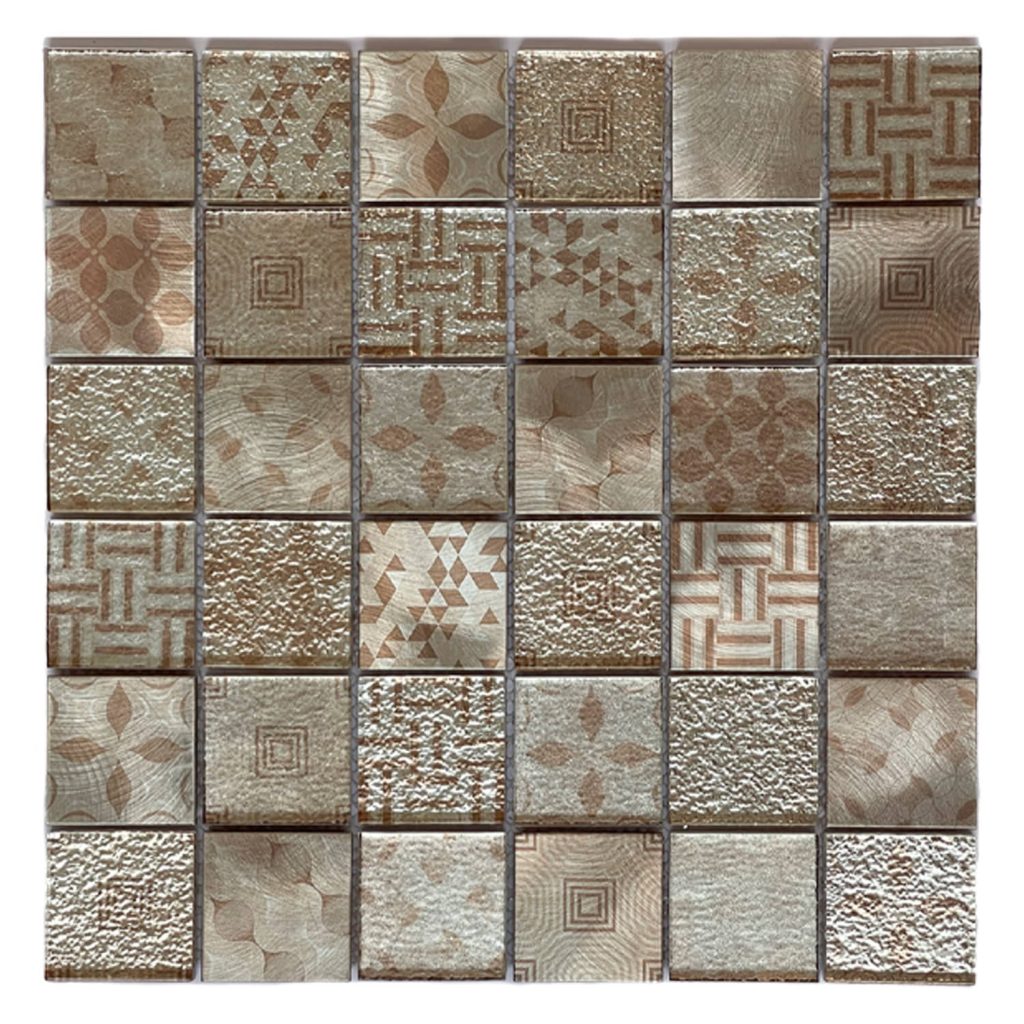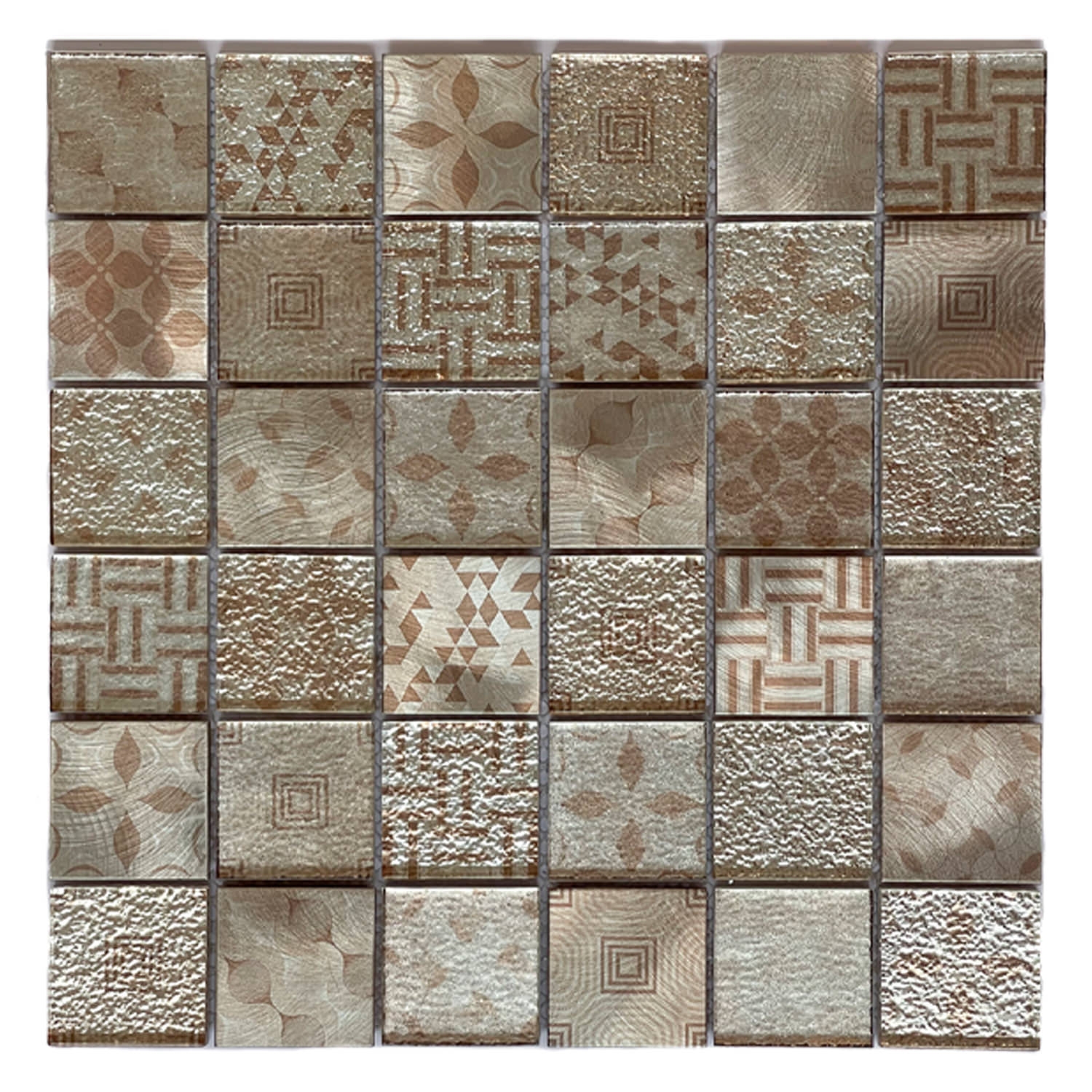 A brief overview of mosaics:
Mosaic art is created by assembling tiny fragments of vibrant stone, glass, or other materials. The name mosaic is derived from the Latin mosaics, which means "of the Muses." Mosaic art, which has been around for centuries, was used to decorate the floors and walls of homes and public buildings for many years. The tiny shards are known as "tesserae." Mosaic art is still quite popular today and typically uses glass tiles to create stunning and unusual designs. The majority of craft stores have glass tiles in a variety of colours. It's vital to consider size, colour, and form when picking glass tiles for a mosaic project. The size of the tiles will determine the project's overall size.gold glass mosaic tile wholesale
Uses for Wholesale Glass Mosaic Tile:
This product has a glossy surface that attracts very little dirt, making it simple to clean when soiled. Cleaning is also much easier than if the concrete floor is left unclean.
Gold Glass mosaic tile wholesale surface includes a barrier that keeps water from penetrating the floor while also preventing water from the subfloor from penetrating back onto the substrate and creating mould and structural damage.
Stages for building instructions:
The following easy measures should be followed while installing bathroom tiles:
Step 1: Get your equipment and safety gear ready.
Protective equipment
Fly, rubber hammer, knife, and brick cutter
Pen, tape measure
Adhesive for tiles, grout glue
Mark the location of the tile:
Measure and make drawings to choose the ideal beginning location for glass mosaic tiles. Preventing excessive tile cutting during construction helps to reduce material waste. Typically, the center of the surface will receive the first tile installation.
Prepare Glass Mosaic Tile Wholesale glue in step three:
Due to the high humidity in this location, pick glue with strong adhesion and waterproofing, such as excellent tile adhesive. You may use this glue confidently because it is frequently used to adhere to swimming pool tiles. You may use our line of grouts and adhesives together. The optimum method for mixing glue is explained in the product box or by the vendor.
Bathroom tile construction in step four:
Apply a little coating of adhesive to the bathroom floor that will be tiled, make grooves in it with a serrated trowel, position the Glass Mosaic Tile Wholesale on top, and then use a rubber hammer to softly tap the tile into place.
Why are gold glass tiles a fantastic choice for work requiring mosaics?
Bright and sparkly glass tiles reflect light wonderfully.
They are easy to cut and available in various sizes and shapes.
Your mosaic's toughness and water resistance will ensure that it lasts many years.
Because gold glass tiles are inexpensive, you may create a beautiful mosaic without shattering.
Glass tiles may be used in infinitely different ways in your designs.
Mosaic tile installation often involves using strong glue. As a result, they are less prone to crack, chip, or break.
To fit, cut the tile sheets:
As you approach the edges of the tile area, you will likely need to trim the tile sheets. The fiberglass mesh can sometimes be cut to make a partial sheet that is precisely the proper size for your needs, but in other circumstances, you might need to trim the individual edge tiles to make them fit perfectly.
If you can, avoid doing this. Using a sharp utility knife, cut the stitches at the grout seams and along the grout lines. You might be able to use ceiling tiles, other accents, or baseboards to fill the gaps at the border of a scheme.
How to Use Gold Glass Mosaic Tile Wholesale?
Glass mosaic tile in gold may be utilized for a variety of applications. It is frequently used for flooring, accent walls, and backsplashes. Any room may benefit from the luxurious touch that gold mosaic tile can bring. It is also a terrific technique to enlarge the appearance of a tiny area. You can decorate your home beautifully with this kind of tile. Gold glass mosaic tile wholesale is a great option if you're looking for a way to add a touch of luxury to your home.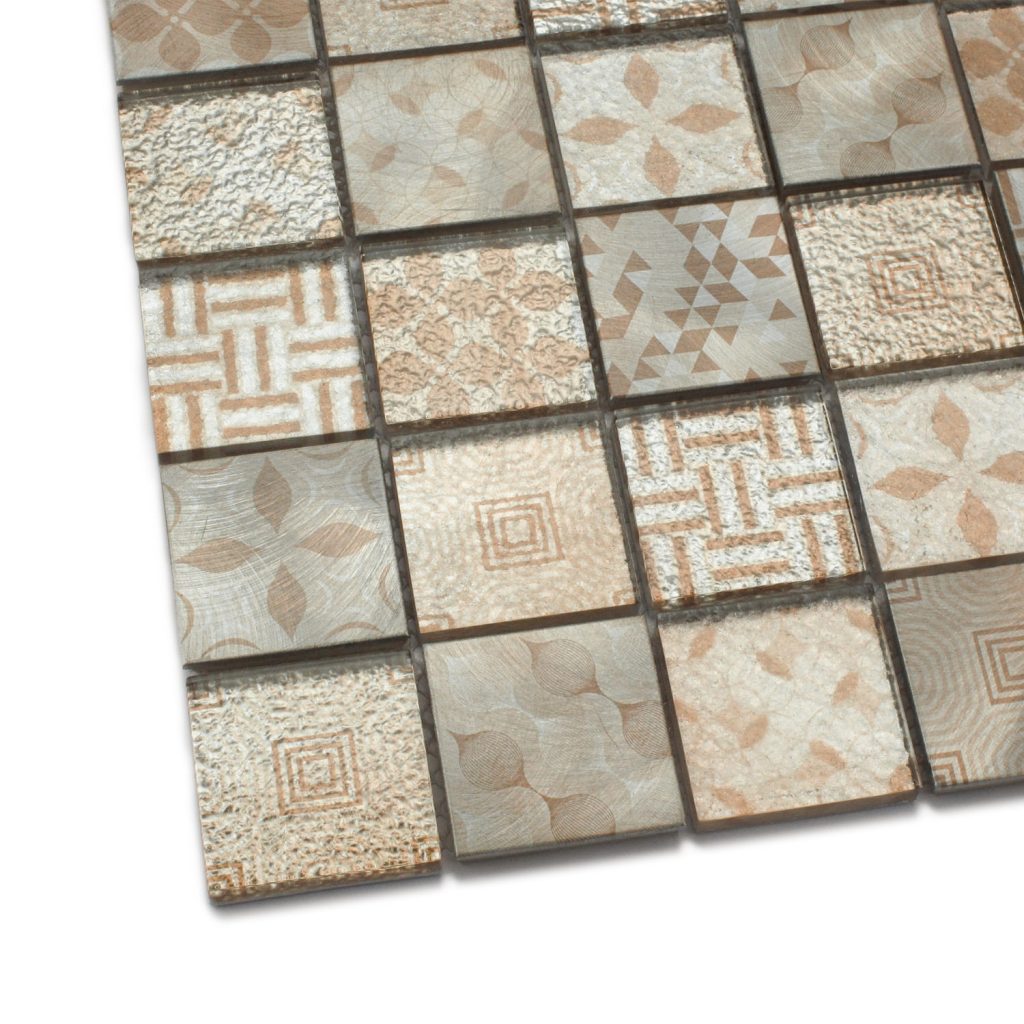 How are gold glass mosaic tiles set?                               
The gold glass mosaic tile wholesale may ripple or ripple on the surface; they don't behave precisely like single huge tiles. To avoid this, "set" the tiles with a tiny piece of plywood measuring. 20 cm2 and a rubber mallet may tap the mosaic panel into the thin layer. This will level out the surface and flatten the tile area.
Make sure there are no lip pages (where one row of tiles is higher than the subsequent row) or slippage (where the gaps between sheets are bigger than the joint gaps inside sheets) at the seams between panels.
Conclusion:
The gold Glass mosaic tile wholesale is straightforward to install because of their light weight and thinness, which makes them easy to handle and cut. Additionally, they are strong and won't chip or shatter easily. Glass tiles complement your home renovation project with a stunning finished look. They are strong, have a gorgeous finish, and are simple to install. The best components, including quality ceramic and hand-selected natural stone, were used to create these masterfully created tiles. GAUDI offers an incredible variety of exquisite tiles. We offer what you need if you're seeking an unusual glass tile design. Beautiful designs are produced for your project by our talented designers. Buy now to get the advantages of these tile characteristics.