A Variety Of Mosaic Art In A Glass Mosaic Tile China Factory
2023.02.16 / By hqt
As a professional and mature Glass Mosaic Tile China Factory, Gaudi has provided satisfactory services to customers from many countries. It has been committed to producing Gaudi-inspired mosaic tiles, and its glass mosaic tiles are one of its masterpieces.
Glass Mosaic Tile China Factory:
Glass mosaic tile factory in China is a new trend, and it has been widely used in the interior of hotels, shopping malls, and supermarkets. These days, the glass mosaic tile factory in China is not only popular but also the most economical product.
The Glass Mosaic Tile China Factory mentioned here refers to a company with many years of production experience: Gaudi. As its name implies: Gaudi has been working hard to provide customers with Gaudi-inspired mosaic tiles.
As a Glass Mosaic Tile China Factory, it not only has many types of glass mosaics, but also many tiles made of different materials, such as marble and ceramics. Their glass mosaic tiles are loved by many users and are successfully sold to many overseas countries.
This shows that beauty can be communicated across different cultural backgrounds. There are also many customers who have customized some very beautiful Chinese-style tiles from Gaudi, which is definitely a very beautiful and novel design style.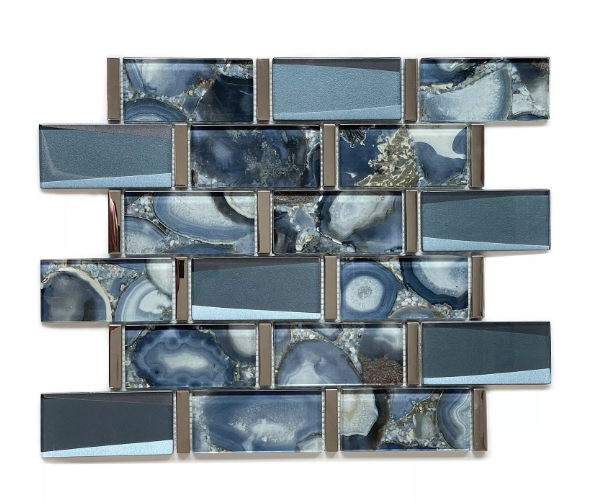 All Kinds Of Mosaic Art Are Available In This Glass Mosaic Tile China Factory:
Gaudi is a Glass Mosaic Tile China Factory that sells Gaudi-inspired tiles, but not overly gaudy. There are many types of glass tiles, from simple to luxurious, from light to colorful, and so on.
Here are some of the hot-selling glass mosaic tiles it has to offer:
Melted Glass:
Glass Mosaic Tiles are made from molten glass, which is melted and poured into a mold to create unique patterns and designs. Melted glass is very soft and easy to install. The surface of melted glass tile can be smoothed by sandblasting or polishing processes. It is also more durable than other types of glass mosaics because it does not break easily when dropped onto the floor or stepped on by a child.
In this Glass Mosaic Tile China Factory, they use melted glass to make many kinds of swimming pool tiles. Available in shades of blue and green, these tiles are perfect for laying under clear swimming pools to add a beautiful splash of color to your pool.
Crystal Glass:
Crystal Glass Mosaic Tiles are made from crystal clear glass that contains no iron oxide or iron content in its composition. If you want your bathroom wall decoration to be as beautiful as possible then you should choose crystal glass mosaic tile for your project.
Because it will give your room a chic look without costing much money or time in the installation process due to the high-quality material used in the manufacturing process.
Tissue Glass:
A tissue panel made of multiple colors with an abstract design or pattern. It is usually used as a decorative element in the home or office. It is often used in kitchens or as TV backsplashes.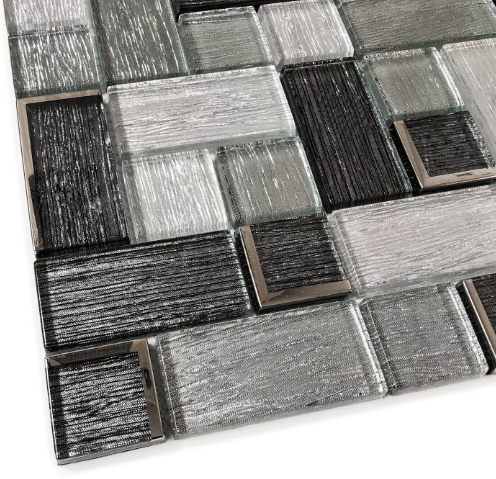 One of these is tissue glass tile, which consists of mixed shades with stone accents, minerals, and unique textures, which give it a very luxurious look.
Printed Glass:
The pattern may be painted directly onto the surface of the glass or printed on top of another layer such as adhesive or cement. Produced by Glass Mosaic Tile China Factory, this printed glass tile has inkjet-printed aluminum inside.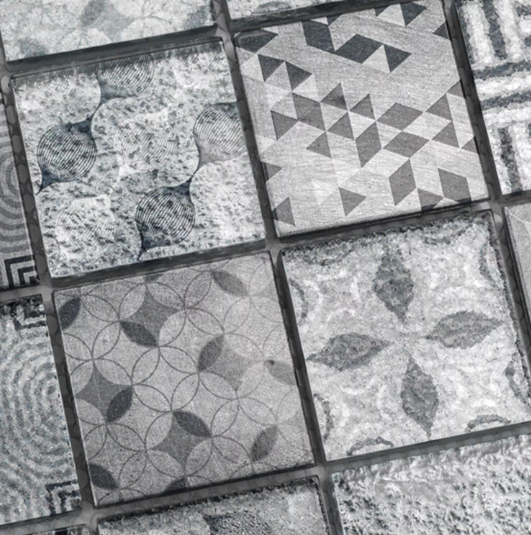 This design makes the outer layer of glass still look smooth and transparent, but there is a very wonderful inkjet pattern inside. So it is very suitable for laying in some places that need waterproofing.
Recycled Glass:
Recycled glass is a type of architectural glass containing recycled materials like beer bottles, wine bottles, and other household items such as plastic bottles and aluminum cans. Recycled glass is also known as recycled glass tile and recycled glass brick because it can be used in construction projects like building walls and floors.
Mirror Glass:
The mirror glass tile produced by this Glass Mosaic Tile China Factory can present a very luxurious decorative effect. This type of tile has many different colors and materials, and it presents a luxurious and natural beauty under transparent glass.
Benefits Of Gaudi's Glass Tiles:
Compared with other materials, glass mosaic tiles have great advantages, and the tiles of this Glass Mosaic Tile China Factory Gaudi also have these advantages:
Glass mosaic tiles are an attractive and practical choice for home decor, offering several key benefits:
Versatility:
Glass Mosaic Tile China Factory's Glass mosaic tiles can be customized to meet different needs and styles. This means that you can choose tiles in a variety of shapes, sizes, colors, and patterns to suit different rooms and home decor styles. Whether you prefer a modern, traditional, or another style, you can find the perfect glass mosaic tiles.
Durability:
Glass Mosaic Tile China Factory's Glass mosaic tiles are a very strong and durable material that can withstand high levels of use and traffic without becoming damaged or worn. As a result, they are a long-term investment that does not require frequent replacement or maintenance.
Aesthetics:
The surface of glass mosaic tiles has a unique luster and reflective effect, which can enhance the visual appeal of a space. They can be used to create interesting textures, patterns, and designs, enhancing the visual appeal of a room.
Gaudi's Glass Tiles Are Perfect For Any Style Of Home Renovation:
No matter what style of the house, Gaudi can easily match the most suitable tiles for you. You can choose the color scheme you like and send the design drawing to Gaudi's customer service team. They will help you make your space more visually appealing.