Tiles For Perfect Geometric Art: Ceramic Hexagonal Mosaic
2023.01.13 / By hqt
What Is The Mosaic? What Is The Ceramic Hexagonal Mosaic?
Mosaic is a material that can be applied to almost any surface. It can be used to decorate walls, floors, and even furniture. The word mosaic comes from the Greek word "mosaikos" which means "inlaid work of small stones or pieces of colored glass". It's been around for thousands of years and has been used in art and architecture for centuries.
A mosaic is usually made up of small pieces of colored stone, glass, or tile set together to form pictures or designs. The most common type of mosaic is made from ceramic tiles that are cut into shapes and then put together like a puzzle to form a picture or design.
The Ceramic Hexagonal Mosaic Tile:
The Ceramic Hexagonal Mosaic Tile is one type of ceramic mosaic tile that is made from clay that has been fired at very high temperatures so it becomes hard enough to withstand being placed outdoors without breaking down from weather conditions such as rain and snowfall.
These tiles are from Gaudi, and there are more than one color, texture, and many options for you to choose from. You can choose a low-saturation gray cracked ceramic hexagonal mosaic, you can also choose black texture or white, and so on.
How To Splice The Perfect Mosaic Art With Ceramic Hexagonal Mosaic Tiles?
First of all, you need to know what the essence of mosaic art is. As mentioned above, mosaic is an art that uses small tiles or other objects to create a larger picture. It is a complex process to create mosaics of different colors and textures from tiles of the same shape.
It's an ancient form of art that dates back to the Roman Empire. Mosaic artists use this technique to create beautiful pictures with many colors and textures.
The essence of mosaic art:
1. From simple to complex:
For many people, mosaic art is a process from simple to complicated, and then back to simple. Many tiles join together to create an intricate and refined decoration that will blend itself harmoniously with your room.
2. From monochrome to colorful:
Mosaic art is the perfect tool to create a work of art. It's an excellent way to decorate your home or office. You can create a beautiful picture from many small tiles of different colors, textures, and shapes. It's like painting with tiles!
3. From flat to three-dimensional:
With the development of the times, the style of mosaic art has also changed. The laying of tiles from flat to three-dimensional enriches the visual effect of indoor and outdoor decoration, making every corner look very different!
4. From innermost feelings to external appearances:
Mosaic art is a spiritual and emotional way of expression. It is not just a decoration, but also an integral part of the soul. A person who has mastered this technique can express all his feelings on canvas.
Even if you do not know how to lay mosaic tiles, you can draw your dream design and make it come true!
Mosaic art can be quite complicated to make, but you can make it much easier by using ceramic hexagonal mosaic tiles. These tiles come in several different colors and textures, which allows you to create many different mosaic art projects.
What're The Perfect Tiles For Geometric Art?
So according to the above "essence of mosaic art", what kind of tiles do we need? Here are some recommendations:
The titles are gray crackled Ceramic Hexagonal Mosaic tiles. It's a desaturated gray in various shades and has nice cracks on the surface. Choose it to get a decoration effect from simple to complex!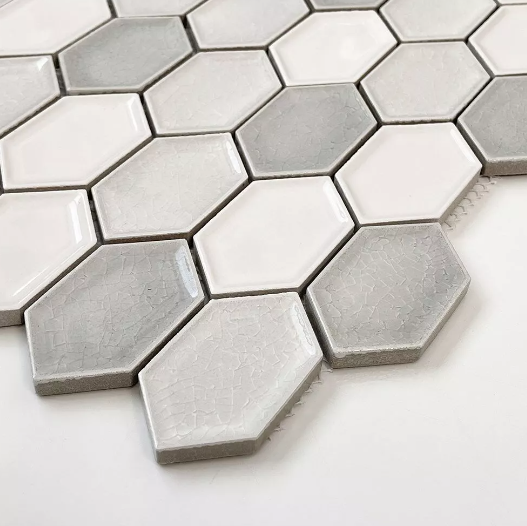 The tiles are white ceramic material. But it doesn't look monotonous. Because it is spaced between concave tiles and flat tiles. From a distance, it will produce a three-dimensional sense from the plane to the three-dimensional.
It is not only suitable for home interior or exterior decoration but also suitable for commercial residential or office applications.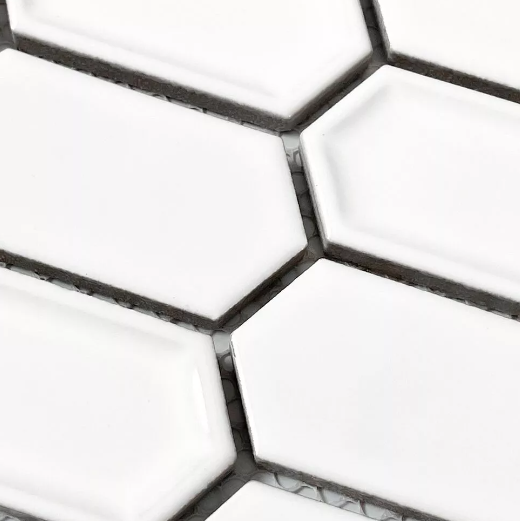 The Ceramic Hexagonal Mosaic tiles are black. It has a rustic textured texture, which makes it look very low-key but very calm. The tile's gaps and itself create a very elegant visual effect, perfect for austere or formal occasions.
These tiles are all hexagonal. Both shape and texture are perfect for creating geometric mosaic art. The Ceramic Hexagonal Mosaic tiles can be used for high-end commercial projects or residential applications. They are also suitable for kitchen backsplash and bathroom wall tiles, as well as wall cladding, flooring, and countertops. The tiles are easy to install and maintain.
Advantages Of Ceramic Hexagonal Mosaic Tiles Over Tiles Of Other Shapes:
Hexagonal tiles are an excellent choice for flooring and wall tiles. They have a lot of advantages over other shapes.
1. Better Coverage:
Hexagonal tiles have more edges than squares or triangles, so they can fit together with fewer gaps between them. This makes for better coverage and fewer grout lines, which makes for an overall cleaner look in your kitchen, bathroom, or anywhere else you want to use hexagonal tiles.
2. Easier Installation:
Hexagon tiles are more forgiving during installation because the shape allows for easier alignment and less chance of misplacing your tiles during installation.
3. More Versatile:
Hexagonal tiles can be used in any room of your house that needs new flooring or wall covering without having to worry about whether or not it will fit with the rest of the design scheme of your home because hexagons can fit anywhere!
Final Words:
The most perfect art is the most direct presentation of people's hearts. Whether you're looking to spruce up your new home or office, or your new swimming pool, there's always something new to try. Why not try Gaudi's ceramic hexagonal mosaic tiles? They won't let you down.