8 Tips to Choose Best Blue Mosaic Glass Tiles
2021.11.03 / By hqt
Blue mosaic glass tiles have many outstanding advantages such as: diverse materials, durable, many outstanding colors, high aesthetics... And they can be applied in many areas such as swimming pools, kitchens, bathrooms. No matter where, mosaic tiles create a space that uses luxury and sophistication... So now they have become a trend that no high-end project wants to miss.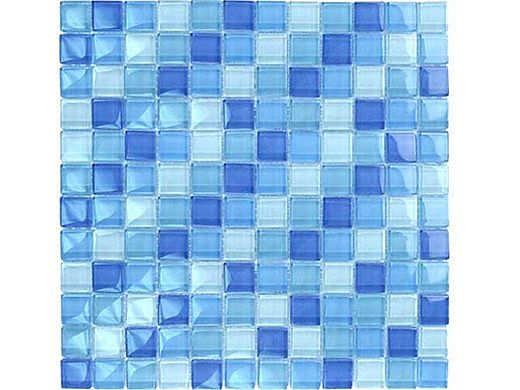 What are Blue mosaic glass tiles?
Mosaic tiles are arrays made up of bonding stone tiles, glass (glass), ceramic tiles ... together. Each of these small stones measures 2 to 10cm each side. They are created from a smelting process with temperatures up to 1300 degrees Celsius, then rolled into small pieces.
Therefore, this tile has the advantages of being durable, light, non-abrasive... In addition, mosaic tiles have a variety of materials, textures and colors, so they are very popular in design construction. furniture.
How to choose Mosaic Tiles for your tiling project
At the start of the new year, clients start to think about plans to renovate and remodel their homes, especially the kitchen and bathroom with Blue mosaic glass tiles. Customers can also invest in a spa pool or a more unique swimming pool for the garden, sky terrace, etc. to relax and swim in the coming summer days.
According to Mosaic company, there are 8 tips to make sure you can choose the right tile for your needs. Let's find out what it is.
1. Color and Light Blue mosaic glass tiles
Choose tile colors that are connected to the overall space of the room. Choose light tones to make the room appear larger than it really is. In addition, the amount of natural light will also affect whether to choose a mosaic tile that can reflect light.
Specifically, if the space is dark, you should choose a tile with a light-reflective surface such as glass to make the room more spacious and airier.
2. Mosaic Brick - Escape the boundaries of safety
Be creative and adventurous with unique ideas and fly even more when choosing Blue mosaic glass tiles, styles, textures… Skip the boundaries of rigidity to create impressive, novel and unique beauty. which cannot be found anywhere else. Currently on the market there are many variations of mosaic tiles, you can completely get creative with it.
3. The quality of Mosaic Tile is uncompromising factor
The quality of the brick will determine the life of your building. High strength bricks are required in areas subject to heavy loads and often subjected to strong vibrations. Or tile with good anti-slip index for wet areas such as kitchen, toilet, outdoor... or not. There is still a choice for the low-cost segment, but quality and safety will be proportional.
4. Choose Blue mosaic glass tiles - always need a specific and detailed plan
Before starting any work, let's together plan the things you need to do such as: what materials, how the surface, the right texture and color ... for the room. When buying Blue mosaic glass tiles, make sure that the quantity you order is about 10% more than the calculated amount. This is to prevent shortfalls in the mosaic tile cutting process.
5. Construction of Mosaic Tiles - don't forget the adhesive and mortar
One of the important factors when implementing a mosaic tile project is tile adhesives and grout adhesives, etc.. These are adhesives for tiles and floors or walls. The best tile adhesive, grout specifically for this type of tile will increase adhesion and help fill the grout lines. Thereby, protecting the tile layer is always durable with time.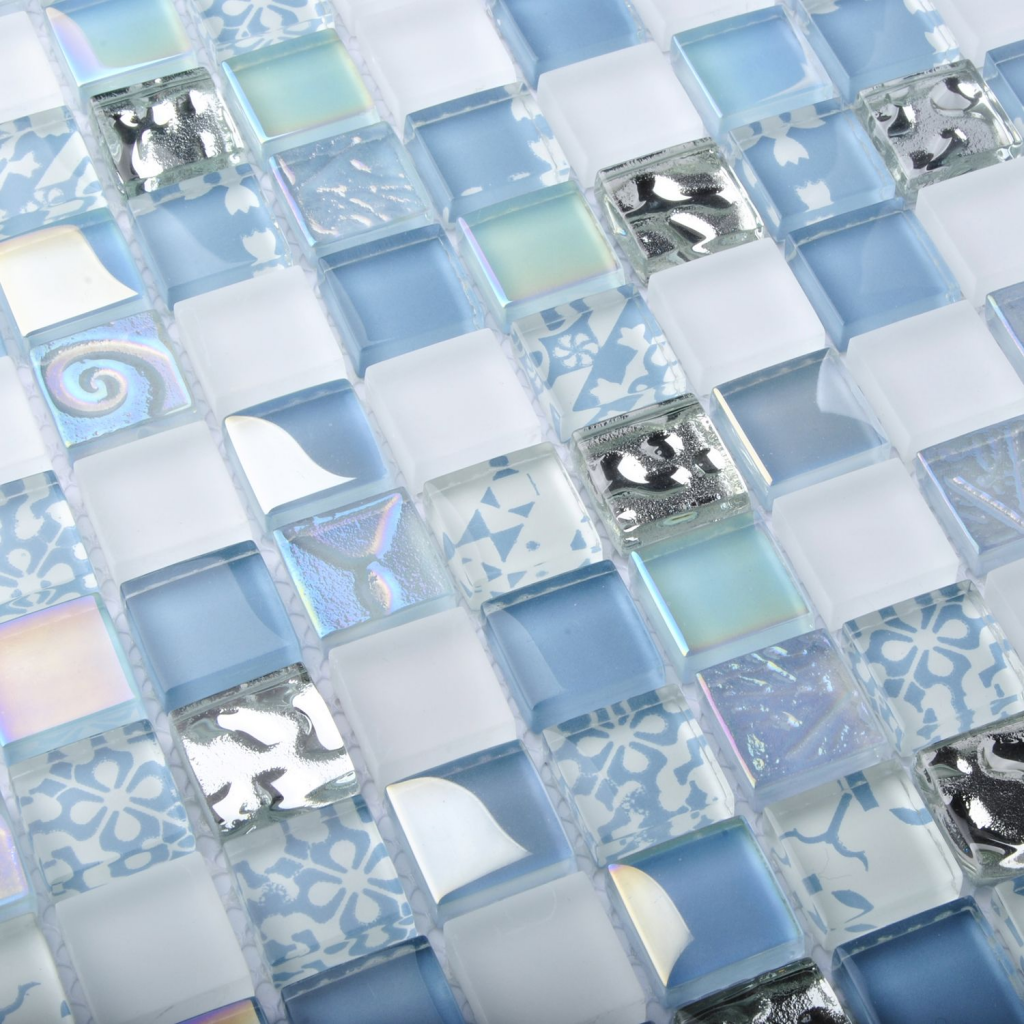 6. Create accents for Mosaic Tiles with cuts on the large wall
If the tiling area is large, you can emphasize it by creating borders that divide the wall. This approach helps to create an impression and reduce the monotony of the room. Another advice is that you should consider using small tiles to limit the need to cut tiles that can cause unexpected problems.
7. Choose the right Mosaic Tile
Bricks must be suitable for the purpose of application. That is to say, you cannot say that tiles with overly glossy surfaces are suitable for wet areas. The use of anti-slip tiles is very important to ensure that there will be no accidents. Or high-quality Blue mosaic glass tiles are essential for kitchens to resist grease and dirt build-up and are easy to clean.
8. Get advice from someone with experience on Mosaic Tiles
Any tiling project can be frustrating for a homeowner when first undertaking the project. Therefore, you should consult with relatives, friends... - who have experience, or maybe also architects for useful information and the most overview.
The most popular types of decorative Mosaic Tiles
This type of brick is divided into many different types based on the material they are made of. Below is a list of popular types of mosaic tiles on the market today.
1. Ceramic Blue mosaic glass tiles
Ceramic mosaic tile (also known as ceramic) has a glazed surface, so it is designed with many different designs and colors. However, their structure is a water-absorbent brick. Therefore, you should only use it in the kitchen space, or maybe the bathroom, but limit its use in areas with a lot of moisture and often like swimming pools.
2. Glass mosaic tiles
With modern technology, today's glass is mixed with many outstanding colors, from white, blue to yellow, purple Blue mosaic glass tiles... The shiny glass material is transparent, so it is reflective in the sunlight. skylights and electric lights, bringing a space to apply them with high prominence and aesthetics.
3. High quality natural stone mosaic tiles
Glass mosaic tiles are resistant to chemical abrasion but not to mechanical wear. Therefore, glass mosaic tile is an ideal material for wall tiles in areas frequently exposed to cleaning chemicals such as swimming pools, bathrooms... Refer to the article on how to glue Mosaic tiles with glue. correct brick technique.
Conclusion
Mosaic tiles with natural stone wall tiles with typical patterns of stone veins bring luxurious beauty to your works. They are commonly used in interior architecture such as hotel lobby, restaurant, etc. Because natural stone has a strong and durable hardness, it is now also popular in swimming pool and other wet areas. provided that the construction is well-permeable.